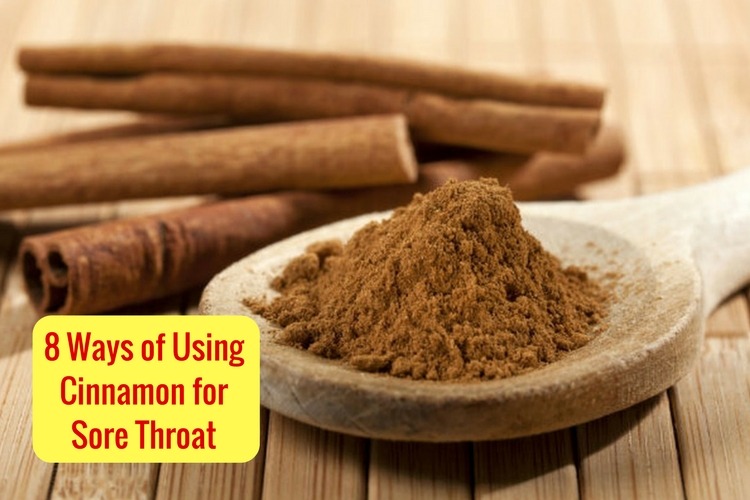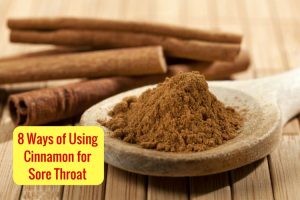 Experiencing soreness in your throat? Well it can be the first sign of common cold, side effect caused by strained vocal cords or an indication of something serious situation like strep throat. Difficulty while swallowing, hoarseness while talking, dry throat and pain in the throat are the primary symptoms of a sore throat.
Viral or bacterial infections, pollution, acid reflux, dry air, excessive shouting or allergic reaction are some of the causes for a sore throat.
Regardless of age, common sore throat reduces within a week. But for smokers, people with allergies or weak immune system and children, sore throat can be a serious threat.
Even if sore throat is not so serious, it can still disturb your sleep which can be really frustrating.
Because of the discomfort, you may be tempted to try out the over counter medications but home remedies can be a better alternative for them.
Home remedies like apple cider vinegar or cinnamon can provide relief from sore throat without any side effects.
Let's learn how cinnamon can help in treating sore throat in detail…
Cinnamon contains antiviral, antifungal and antibacterial properties which are known to suppress E. coli, candida albicans and staphylococcus.
It contains anti-inflammatory properties which reduce the inflammation.
It eases the pain and discomfort caused by the sore throat.
How to Use Cinnamon to Treat Sore Throat?
We do have different home remedies for treating sore throat using cinnamon. We have listed them below. Choose one remedy in the varied list and try it regularly.
1. Cinnamon Tea
Cinnamon tea helps in providing relief from all the discomforts caused by a sore throat.
To a cup of boiling water, add 1 inch cinnamon stick or 1 teaspoon of cinnamon powder.
Simmer for 5 minutes and remove from the flame.
Let it cool down for few minutes.
Add 1 teaspoon of honey and consume it.
Repeat the process 2 times a day.
For extra benefits, you can add a teaspoon of lemon juice as well.
2. Cinnamon with Honey
Honey has antibacterial properties and also helps in soothing the throat. This combination is helpful in reducing the pain and inflammation caused by sore throat. You can use manuka honey as well.
Add few drops of cinnamon oil into 1 teaspoon of pure honey.
Mix well and consume this mixture.
Repeat the process 2 times a day to get relief.
Alternatively, you can mix cinnamon powder with honey to make a paste and consume it.
3. Cinnamon with Black Pepper
The properties of black pepper and cinnamon help in reducing the pain and the inflammation.
To a glass of warm water, add 1 teaspoon each of cinnamon powder and black pepper powder.
Mix well and use this mixture to gargle.
Repeat the process 2 – 3 times a day to get quick relief.
For extra benefits, you can add cardamom powder.
4. Cinnamon with Powdered Ginger
Process 1:
Heat 1 cup of milk on low heat.
Add 1/2 teaspoon each of cinnamon powder and ginger powder.
Simmer for 5 minutes and remove from the flame.
Let it cool down for few minutes and add 1 teaspoon of honey.
Consume this while it is still warm.
Repeat the process 2 times daily.
Note: Drinking cinnamon tea before going to bed provides relief from the discomfort caused by sore throat during sleep.
Process 2:
Add 1/2 teaspoon each of cinnamon powder and ground ginger, 1/4 teaspoon of cayenne pepper and 1 tablespoon of honey into a cup.
Add water into it and stir well.
Drink this solution right away to get relief.
5. Cinnamon Milk with Baking Soda
This solution prevents the illness from spreading because of its antibacterial properties. It is one of the oldest Chinese medicines to treat phlegm.
To a pan, add 1/2 teaspoon of cinnamon powder, a pinch of baking soda and 1 tablespoon of sugar.
Mix the ingredients well and add 1 cup of milk to it.
Heat the mixture until it is warm. (Do not boil the mixture).
Once the mixture is warm enough, remove from the flame.
Add honey, stir well and drink it.
Note: If you are lactose intolerant, you can use almond milk.
6. Cinnamon with Apple Cider Vinegar
ACV contains natural expectorant property which loosens the mucus present in the throat. This process helps in providing quick relief from the sore throat.
Add 1 teaspoon each of cinnamon powder, apple cider vinegar, lemon juice and honey into a cup of warm water.
Drink this concoction slowly.
Repeat if required.
Alternatively, you can gargle using this mixture.
7. Cinnamon with Licorice Root
The anti-viral and anti-inflammatory properties of licorice root helps in reducing the swelling and irritation caused by sore throat. This solution is not only effective but also tastes good.
Combine 1/2 cup each of cinnamon chips and chamomile flowers, 1 cup of dry licorice root (chopped) and 2 tablespoons of whole cloves.
Mix the ingredients well and store the mixture in an airtight container away from direct light and heat.
When you want to make tea, combine 2.5 cups of cold water and 3 heaping tablespoons of tea mixture in a pan.
Bring the mixture to boil and reduce the heat to low.
Simmer for 10 minutes.
Strain the mixture and enjoy the tea.
Repeat whenever required.
8. Cinnamon Candy for Sore Throat
These candies can be made and stored up to 3 weeks. During the season of cold, you can pop a candy once in a while to prevent or reduce sore throat. In this process we need honey, cinnamon and slippery elm bark. Slippery elm bark is rich in mucilage which is perfect for soothing a sore throat. Let's see the process…
Add 1 cup of slippery elm bark (finely ground powder) in to a bowl.
Add 1 teaspoon of cinnamon powder and 4 tablespoons of honey into it.
If the mixture is crumbly and enough to make a dough then add 2 tablespoons of honey. If not, then avoid this step.
Make dough of the mixture.
Take small portions of the dough and roll them into balls.
Place the balls on wax paper that is laid on a baking dish or kitchen counter.
Leave the balls to dry for at least 24 hours. If you live in a damp cloth, leave them for a little longer.
Warp the balls in small wax papers and store them in an air tight container.
Suck on a candy whenever required.
Tips and Precautions:
Cinnamon powder found in most of the grocery stores is derived from cassia plant. It contains toxic compound like coumarin which causes liver and kidney damage. So it advised to avoid taking cinnamon in large quantities to avoid these side effects.
Cinnamon contains anti-clotting effect. So if you are using blood thinning products such as aspirin then avoid cinnamon consumption.
People with diabetes should consult doctor before consuming cinnamon as a regular supplement.
Avoid contact with people having strep throat infection.
Wash your hands often when people with cold or cough are around you.
Include foods in your diet that improve immunity or body's resistance.
Manage stress and exercise regularly to strengthen your body's ability to fight off illness.
Moisture in air helps to keep the mucous membranes moist and resistant to bacteria. So humidify the air in your home especially during dry months.
Have you tried cinnamon for treating sore throat? Do you have any other remedy that works better than the remedies mentioned above? Please share your experience and queries in the comments section below.