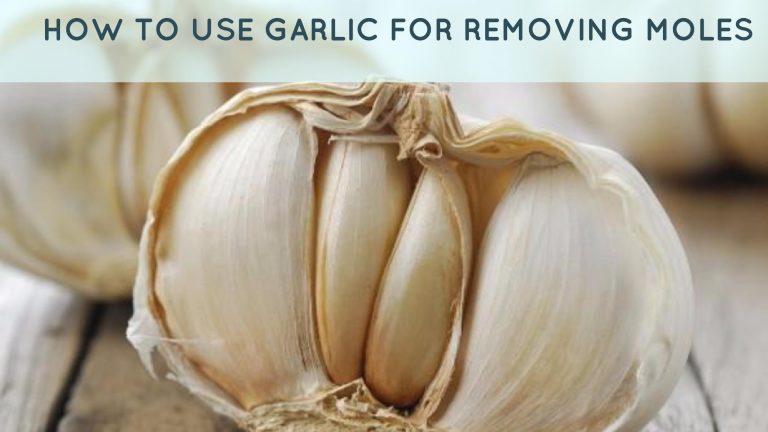 Moles also known as nevi are quite harmless. But if they are in large numbers or big in size then they become a cosmetic problem. They can appear anywhere in the body. They can be flat, rough or smooth textured with or without the hair.
When pigmented cells or melanocytes are formed in clusters, it is referred as mole. The main reason behind the excess production of melanocytes is a pigment called melanin.
Mostly, they are considered harmless but sometimes they can be cancerous growths as well. If your moles are changing in shape frequently or have an abnormal shape or colored in pink, blue or gray then it is better to consult a doctor to get them diagnosed.
Moles can be removed through various procedures like cutting, freezing, burning or laser excision. All these types are quite painful and should be performed only by professionals.
Yet, simple solution like garlic or apple cider vinegar is also available for mole removal. These treatments take some time but can be performed by you at the comfort of your home to remove your unwanted moles. Apart from that, they are cost effective too.
Does Garlic Really Work for Moles Removal?
Garlic contains enzymes that help in breaking down the pigments which are form as moles.
They lighten the dark pigmentation quickly.
It reduces the excess production of melanin substance.
How to Use Garlic for Mole Removal?
There are various ways of using garlic for mole removal. We have listed them below. Choose as per your preference and use it regularly to diminish the appearance of moles.
1) Garlic
This process ensures quick removal of a mole. But make sure to avoid the application of garlic to the surrounding skin of the mole as it can lead to scarring.
Process 1: Garlic Bandage
Peel and slice a garlic clove.
Place it in the mole and secure it with a bandage or adhesive tape.
Let it stay for 4 – 5 hours.
Remove the bandage and wipe off the area.
Repeat the process up to 3 times a day.
Process 2: With Petroleum Jelly
Take a garlic clove and crush it to a paste.
Apply petroleum jelly around the mole to avoid the burns that can be caused by garlic.
Place the garlic paste on the moles using a q-tip.
Leave it overnight and remove in the morning.
Repeat the process daily to diminish the appearance of moles.
Alternatively, you can use oil instead of Vaseline.
Process 3: Garlic Juice
Take a garlic clove and extract juice from it.
Apply garlic juice on the mole.
Leave it to dry completely.
Rinse off with water and pat dry.
Repeat the application 3 – 4 times a day.
2) Garlic Powder with Castor Oil
Castor oil is also known for removing skin abnormalities like moles, skin tags, and even warts. It doesn't leave any scar behind.
Combine 1/2 teaspoon of garlic powder and enough amounts of castor oil to make a thick paste.
Apply the paste over the moles.
Leave it for few hours to overnight.
Rinse off with water and pat dry.
Repeat the process 2 times a day.
Note: You can secure the paste with a bandage or adhesive tape.
Alternatively, you can use fresh garlic paste instead of garlic powder.
3) Garlic Oil
Garlic oil also helps in breaking down the pigmented cells. You have to be careful while applying this as garlic oil contains a more concentrated form of garlic properties.
Using a q-tip, apply garlic oil on the mole.
Leave it on until it completely dries.
Repeat the application daily 2 – 3 times.
4) Garlic with Vinegar
The acidic nature of vinegar destroys the pigmentation of moles. For this process, you can use either apple cider vinegar or white vinegar.
Take a garlic clove and crush it into a paste.
Combine garlic paste and enough amount of vinegar.
Apply it over the mole and let it stay for 30 minutes.
Rinse off with water and pat dry.
Repeat the process.
5) Garlic with Onion
Onion juice improves skin health, fades out blemishes and brown spots. Apart from that it also contains bleaching properties and is acidic in nature.
Combine equal quantities of onion juice and garlic juice.
Using a q-tip or cotton ball, apply the solution on moles.
Leave it to dry completely.
Rinse off with water and pat dry.
Repeat the application 2 – 3 times a day.
Tips and Precautions:
The garlic application may sting a bit but don't worry as it is normal. If the burning sensation is too high then dilute with water before application.
For more effective results, pierce the mole with a pin before applying garlic.
If the garlic application is making the skin dry then apply olive oil or coconut oil after rinsing off the mixture.
Avoid tanning beds if you have more number of moles.
Sun exposure is one of the main reasons for developing moles, so reduce going out in the sun. Apply sun-screen lotion before going out. Cover the moles with cloth and face with a hat while going out in the sun.
Some moles can be cancerous growths. Consult your dermatologist to get them checked.
Don't scratch or file moles for longer period of time.
Don't attempt to remove moles using surgical methods at home as they can lead to other skin infections. They should be done by professionals.
Are you going to try garlic for removing your moles? Share your experience and suggestions in the comments section below. For more articles, stay tuned with our website.