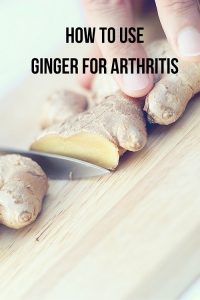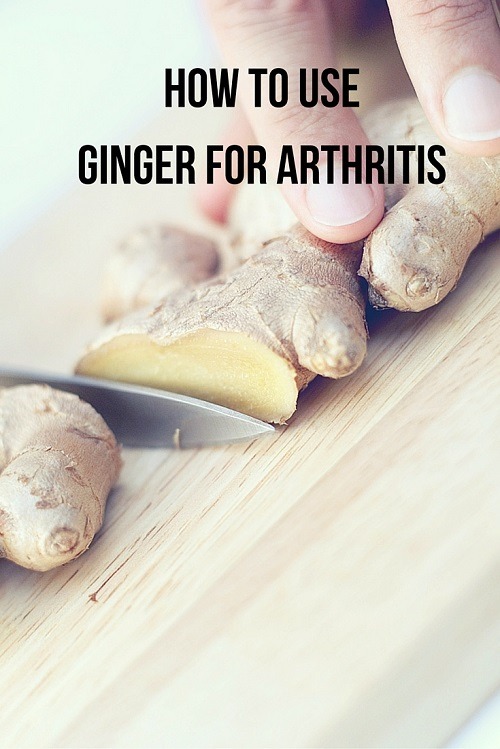 Arthritis is a widely-prevalent but not well-understood disease. Arthritis is not a single disease; the term covers more than 100 different types of joint diseases and conditions. More than 50 million adults and 300,000 children are affected by some type of arthritis.
Ginger has been used for centuries in Ayurveda and Chinese medicine as a natural treatment for arthritis pain. Recent research proves that it is beneficial for both inflammatory arthritis like rheumatoid arthritis and degenerative arthritis like osteoarthritis.
Can Ginger Help to Relieve Arthritis?
Gingerols and shogoals present in ginger are powerful phytonutrients that fight against inflammation, relieve pain, radiating heat and prevent cartilage destruction caused by arthritis.
Ginger extract reduces the production of cytokines and leukotrienes – chemical agents produced in the body that are responsible for triggering immune response that leads to rheumatoid arthritis.
Ginger contains salicylate that is converted into salicylic acid in the body. Salicylic acid prevents the production of prostaglandins which cause pain and discomfort.
How to Use Ginger For Arthritis?
Ginger can be consumed in whole or powdered from to relieve arthritis symptoms. One can also opt for a ginger capsules or supplements for effective results. Ginger can also be applied topically to soothe the inflammation in joints.
1. Ginger
Take a 1/2 inch piece of fresh ginger.
Peel and chew it first thing in the morning.
Repeat it every day to reduce arthritis pain.
Note: If you can't chew raw ginger then you can crush it to form a paste, add some honey to it and take it with some water.
2. Ginger Tea
Take a 1 inch piece of ginger and cut it into thin slices.
Bring a cup of water to boil.
Add the ginger slices to it and let it steep for 10 minutes.
Discard the ginger slices and sip on this tea slowly.
Consume the ginger tea 2 to 3 times a day.
3. Ginger Drink
Put a quarter-sized piece of ginger in a juicer and juice it.
Add the ginger juice, lemon juice and black salt to 1 glass of filtered water.
Stir well and sip on this drink 1 to 2 times a day.
4. Ginger and Lemon Tea
Lemon is a rich source of vitamin C that promotes collagen health which is a major component of the cartilage present in the joints.
Slice or grate 3cm fresh ginger and add it to a liter of boiling water.
Cover the lid of the pan and let the tea simmer for 10 minutes.
Filter the tea and add a teaspoon each of lemon juice and honey to it.
Consume this ginger and lemon tea 2 times daily.
5. Ginger and Turmeric Drink
The substance curcumin present in turmeric helps to treat arthritis by reducing joint stiffness, swelling, inflammation and other symptoms related to arthritis.
Add 1 teaspoon each of fresh grated turmeric and ginger root to a glass of lukewarm water.
Let it steep for 5 minutes and then add a teaspoon of black pepper to it.
Stir well and drink it up.
Consume this concoction 1 to 2 times every day.
Note – Adding black pepper is a must in this recipe because it increases the absorption of curcumin in the body.
6. Ginger and Garlic Mix
Garlic possesses significant anti-inflammatory effects. It works by inhibiting the production of pro-inflammatory substances known as cytokines.
Take 1/2 inch of ginger and 3 to 4 cloves of garlic.
Crush them together to form a smooth paste.
Consume 1 tablespoon of this mixture with a glass of water.
Repeat the process 1 to 2 times every day.
Note – Don't consume garlic immediately after crushing it; leave it in the open for few minutes to promote the release of the active components.
7. Ginger and Coconut Oil Drink
Coconut oil is beneficial for arthritis pain when applied externally and taken internally. It is an anti-inflammatory agent that relieves pain and lubricates the joints and muscles.
Heat a cup of water and add 1 tablespoon of grated ginger to it.
Add 1 tablespoon of extra virgin coconut oil to it and mix it with a spoon.
Drink this concoction 1 to 2 times a day – once in the morning and once in the afternoon.
8. Ginger and Cinnamon Tea
Cinnamaldehyde and cinnamic acid present in cinnamon possess powerful antioxidant properties that prevent cell damage caused by free radicals. It also reduces inflammation of the tissues and cartilage.
Grate 1 inch of fresh ginger and add it to a cup of boiling water.
Let the brew steep for 10 minutes.
Add a teaspoon of powdered cinnamon to it.
Sip this drink two times a day – once in the morning and once before going to bed.
9. Ginger Oil Massage
Ginger essential oil contains chemicals which have analgesic and anti-inflammatory effects. They help to relieve arthritis pain by acting on the vanilloid receptors located on the nerve endings of sensory nerves.
Take 2 tablespoons of extra virgin olive oil in a bowl and heat it for 2 to 3 minutes.
Add 3 to 4 drops of ginger essential oil to it.
Allow the oil to cool down a bit.
Use this warm oil to massage the affected joints and muscles for 10 to 15 minutes.
Massage the painful areas with ginger oil 1 to 2 times every day.
For added benefits, you can add ½ teaspoon turmeric into the mixture.
Note – Use soft and gentle strokes while massaging the joints to prevent any damage and pain.
10. Ginger, Frankincense and Myrrh Arthritis Ointment
Frankincense oil improves circulation while sesquiterpenes and terpeniods present in Myrrh essential oil provide anti-inflammatory and antioxidant benefits.
Take 4 ounces of unrefined coconut oil and add 10 drops of ginger essential oil, 20 drops each of frankincense essential oil and myrrh essential oil to it.
Mix the ingredients well and pour into a glass jar.
Secure the lid and store in a cool and dry place.
Use this DIY ointment to massage the painful joints and muscles once in a day.
11. Ginger and Epsom Salt Soak
Epsom salt contains magnesium sulfate that relaxes the muscles and nerve endings. It also provides relief from pain and stiffness – the two main symptoms associated with arthritis.
Boil 2 quarts of water in a pan and add a 5-inch sized fresh crushed ginger root to it.
Let the water boil for 7 to 8 minutes.
Transfer the water into a tub and let it come to a comfortably warm temperature.
Add 1/2 cup of Epsom salt to it.
Submerge your sore joints in the solution and wait for 15 minutes.
Repeat this remedy once in a day.
Note – You can also opt for a ginger and Epsom salt bath to soothe your painful knees and elbows because these joints are less convenient to submerge in the tub.
12. Ginger oil and mustard oil
Add 2 drops ginger oil to a tablespoon of warm mustard oil.
Massage the arthritis affected area with the oil and use a hot compress to reduce swelling and pain.
Follow the method 3 times in a day.
Note: For added benefits, use mustard oil for cooking. The oil contains omega-3 fatty acids, magnesium and selenium helps to relieve arthritis pain
13. Ginger Compress
Add 1 tablespoon of tea leaves and 1 inch ginger into water.
Let the mixture boil for few minutes and remove from the flame.
When the mixture is comfortably warm, dip a soft cotton cloth in it and wring out the excess.
Fold the cloth and place it on the affected joints.
Repeat the process several times in a day.
Note: You can also evenly spread the warm tea leaves from the decoction on the painful area and then place the cloth. The warm layer of tea leaves will help to alleviate pain
14. Homemade Ginger Infused Oil
By following the below process, you can make ginger infused oil at home. You can use this oil to massage the joints affected by arthritis.
Heat 1 cup of extra virgin olive oil.
Let the oil cool down to room temperature and pour in a clean dry glass jar.
Peel a 5 inch ginger piece and wash with water to remove any traces of dirt.
Remove excess moisture from the ginger piece with a kitchen towel.
Cut the ginger into thin slices and add them to the oil in glass jar.
Give a stir with a clean dry spoon and close the jar's lid tightly.
Store the jar in a cool dark place for about 4 to 5 weeks to infuse the ginger pieces with oil.
Shake the bottle daily to ensure the natural juices of ginger infuse well into the oil.
After infusion, discard the ginger pieces from the oil.
Whenever you want to ease the arthritis pain, use the oil for massaging the affected joints. Just warm the required quantity of oil before using for massage.
15. Ginger Liniment
This process is helpful to reduce the swelling, pain and stiffness caused by arthritis.
Take 4 tablespoons of thinly sliced ginger in a glass jar and pour enough rubbing alcohol to cover the ginger pieces.
Place lid of the jar and store it in a cool dark place for around 4 weeks. Make sure to shake the jar once in every 2 days.
Discard the ginger pieces and apply the liquid on painful area.
Repeat the application when required.
16. Ginger Oil Salve
In a heat proof container, mix 2 drops ginger oil and 1 tablespoon of olive oil.
Add 1/2 tsp of bee wax to it and mix well.
Place the container in a pan which is half filled with water.
Heat the water slowly to melt wax.
Pour the oil into a small bottle and allow it to set.
Place a tight cap and apply the salve on arthritis affected area.
Repeat the application once in a day.
Alternatively: In case, if you are using homemade ginger infused oil, combine 1 tablespoon of ginger infused oil and 1/2 teaspoon beeswax.
Tips and Precautions:
The recommended daily dosage of ginger is 2 to 4 grams. It can be taken in powdered form, as extract, juice, tea or supplement.
No matter which essential oil you use, make sure to use the oils sparingly both internally and topically, because the strong nature might cause reactions and sensitivity.
Make sure the ginger essential oil is 100% pure and does not contain any chemicals or preservatives.
Ginger is a blood thinner, so people with bleeding disorders should avoid consuming ginger because it might increase the risk of bleeding.
High doses of ginger might worsen certain heart conditions.
It is best to start taking ginger in small doses, because sometimes large doses of ginger can cause side effects such as gas, heartburn, upset stomach and mouth irritation.
Consult your doctor before using ginger if you are pregnant, planning to conceive or breast-feeding.
Try out alternative therapies such as acupuncture or hot and cold therapy to relieve joint pain without medications.
Eat a balanced diet and include the healthy omega-3 fatty acids into your diet to reduce joint stiffness and increase the range of motion.
Work with an experienced physiotherapist to get regular massage for arthritic joints. Also learn self-massage techniques to help yourself when you can't reach out to your therapist.
High dose of vitamin C can be harmful for osteoarthritis, so make sure to decrease vitamin C or citrus fruits content in your daily diet.
Combine these above-mentioned natural remedies using ginger with a balanced diet and regular exercise regime to get lasting relief from arthritis pain and win back your freedom of movement.
​If you found this article useful, you might also like our article about using aloe vera to ease arthritis pain.