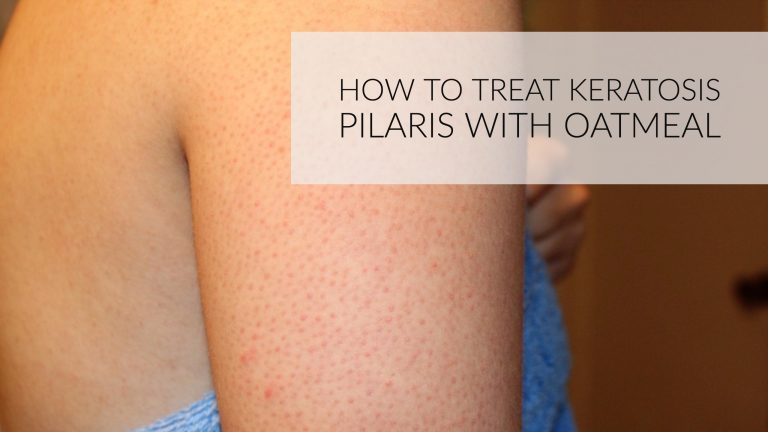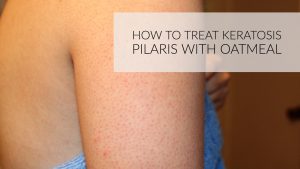 Keratosis pilaris is a common skin condition that affects 40% of people across the world (1). It appears as dry, rough and tiny bumps that resemble goose bumps or chicken skin (2). Though it is a harmless skin condition, it can be embarrassing and socially damaging.
Keratosis Pilaris develops when excess keratin (a type of protein essential for hair growth) combines with dead skin cells and clogs up the hair follicle. The reason behind the excess build-up is still unknown (3). People with dry skin are more prone to this skin condition because they have excess loose dry flakes. This is the reason why KP gets worse during winters and gets controlled in summer.
Though this skin condition is non-curable, it can be controlled at a great level by moisturizing and exfoliating. This can be easily achieved through natural ingredients like oatmeal, coconut oil or olive oil without any side effects.
But in this article, let me introduce how oatmeal helps you control keratosis pilaris.
Effectiveness of Oatmeal as a remedy for Keratosis Pilaris
Oatmeal contains saponins which are effective natural cleansers. They remove the dirt, debris and unclog hair follicles without disturbing the skin's barrier.
Avenanthramides present in colloidal oatmeal are excellent antioxidant compounds which reduce the inflammation, redness, and irritation caused by keratosis pilaris.
It is rich in polysaccharides which contain gel-like texture. This gel acts as a protective layer over the skin to lock in the moisture which helps to prevent dry and itchy skin (a common symptom of KP).
How to Use Oatmeal for Keratosis Pilaris
There are different ways of using oatmeal for treating keratosis pilaris. We have mentioned them below for your convenience. Choose any one among them and try it regularly to get relief from keratosis pilaris.
1. Oatmeal Bath
Oatmeal bath is a simple way to moisturize the skin and reduce itchiness. Either whole oatmeal or oatmeal powder can be used for this method.
To a bathtub of lukewarm water, add a handful of oatmeal or oatmeal powder.
Soak in the bath for about 15 minutes.
Shower and pat yourself dry with a smooth cotton towel.
Repeat this 3 times a week.
Note: For further relaxing effect, add a tablespoon of honey and a cup of milk to the bath.
2. Oatmeal Scrub
This process gently scrubs off the accumulated dead skin cells and unclogs the hair follicles. It also helps to reduce the keratin production and appearance of tiny bumps.
Mix 2 tablespoons of oatmeal with 2 tablespoons of milk.
Apply this paste to the affected area and gently massage for few minutes.
Leave it on about for 15 minutes.
Wash off the application with water and pat it dry.
Repeat this 3 times a week.
3. Oatmeal and Baking Soda Scrub
Being a great exfoliator, baking soda removes dead skin cells and reduces the appearance of tiny bumps.
Mix equal amounts of baking soda and oatmeal (maybe 2 tablespoons each depending on the area of application).
Add enough warm water to it and stir with a spoon.
Set the bowl aside for 5 minutes.
Now, apply the mixture to the affected area and massage gently for a few minutes.
Rinse the application with warm water followed by cold water.
Repeat this 2-3 times a week.
4. Oatmeal, Lemon and Honey
Lemon gets absorbed into the skin and pumps out the excess keratin clogging the hair follicles. It also reduces pigmentation and evens out the skin. The humectant properties of honey lock in the moisture and hydrate the skin.
In a bowl, mix ¾ cup of oatmeal, a small amount of water, ¼ cup each of honey and lemon juice.
For an even consistency, you can also blend this in a coffee blender.
Apply this to your face or any area affected by keratosis pilaris.
Massage gently for a couple of minutes before washing off with warm water.
Repeat this 2-3 times a week.
5. Oatmeal and Coconut Oil
Coconut oil consists of lauric acid which breaks down the keratin blocking the hair follicles and sets the follicles free.
To ½ cup of oatmeal, add 1 tablespoon honey, ¼ cup each of powdered sugar and melted coconut oil.
Mix well and apply it to the affected area.
Scrub gently with your fingers for 4-5 minutes.
Leave it for about 30 minutes before washing it away with cold water.
Repeat this once every week.
6. Oatmeal and Olive Oil
Olive oil is rich in vitamin E which removes the excess keratin clogging the hair follicles. It also helps to rejuvenate the damaged skin.
In a bowl, mix 1 cup of oatmeal, ¼ cup each of olive oil, sugar and honey.
Apply this mixture to the affected area and scrub gently for a couple of minutes.
Let it sit for 10 minutes and then wash off with warm water.
Repeat this 1-2 times a week.
Note: For more paste like consistency, you can heat the mixture for 30 seconds before applying it to the face.
7. Oatmeal Brown Sugar Mask
Brown sugar is a great exfoliator and a hydrating agent. Its smaller grain size is effective against sensitive face skin.
Using a coffee blender, grind 1 tablespoon of oatmeal and 1 tablespoon of brown sugar.
To this mixture, add 1 tablespoon of honey, 1 tablespoon of Jojoba oil along with a drop of lavender oil and mix to form a paste.
Wet your face first and then apply the paste on your face.
Using your finger, gently scrub in circular motion for 5 minutes.
Leave it on for about 10-15 minutes before washing it off with warm water.
Repeat the process several times in a week.
8. Oatmeal Soap
Most of the soaps present in the market have chemicals that can worsen the keratosis pilaris. Instead of them it is better to use a non-toxic DIY oatmeal soap. This soap helps soothes the skin, evens the bumps, moisturizes and reduces itchiness.
Below is the detailed step-by-step description for making a homemade oatmeal soap.
Using a microwave or double boiler, melt 2 lb Shea butter soap base.
Once melted, remove from the heat.
Add a cup of oats, 2 tablespoons honey, 2 tablespoons of almond oil into it and stir thoroughly.
Now pour the mixture into a small mold and allow it to cool down for about 4-5 hours. (You can freeze it in the refrigerator if you want to quicken the process.)
After the soap is hard enough, take it out of the molds and slice off uneven sides/ edges.
Use it to scrub/wash your body daily during the bath.
Note: You can use grounded oatmeal powder if you are concerned about the oats clogging the drain.
Tips and Precautions
If you are allergic to oatmeal then avoid using it. Make sure to perform a patch test before trying out any remedy mentioned in the above article.
Moisturizing is very important if you are suffering from keratosis pilaris because it makes the skin dry. Apply natural moisturizers like aloe Vera, coconut oil or shea butter daily.
Drink plenty of water and green tea as they help to flush out toxins from your body.
Avoid the usage of soaps, gels or moisturizers which contain harsh chemicals like paraben etc.,
Do not scratch the lesions. Instead soothe the itchiness using any of the above methods.
Reduce the keratin levels of your body using creams which contain glycolic and alpha-hydroxyl acids in its composition.
Refrain from going out in extreme cold or hot environments. It might increase the keratin production in your skin.
Add plenty of leafy vegetables, fruits and nuts to your diet. Exercise regularly for a healthy skin.
Though the above-mentioned methods take time to show the results, we recommend trying them regularly until you achieve the results. If you have any queries or suggestions, share it with us in the comments sections below.