As soon as you hear – probiotics are good for treating yeast infections  — you might finally feel a ray of hope for tackling your feminine problem.
But when you decide to take them, you might question what is the best probiotic? How do I choose the best one? Will they treat a yeast infection completely?
That's why in this article we have assorted all the information related to probiotics and yeast infections.
Warning: It is a little long, as I've included every detail related to probiotics — the selection, the good, the bad and everything else. We recommend reading everything to understand this regimen fully. However, you can jump to products section by clicking here…
A Quick Navigation
Are Probiotics Good for Yeast Infection Treatment?
Yeast infection is caused by candida albicans which is usually present in our bodies (mainly in the GI tract). When it under control, it doesn't cause any harm and even helps in digestion process. Good bacteria is responsible for the controlling of candida in the body.
Sometime, due to antibiotics overuse, improper diet and various other reasons, good bacteria reduces. Taking this into advantage, candida prevails and yeast infection takes place. Once it flourishes the gut, it slowly moves to other areas causing oral thrush and vaginal infections.
So, by this you have understood the importance of lack or less good bacteria presence (especially in the gut) is the root cause of yeast infection. Here's how probiotics deal with the root cause…
Probiotics contains millions of good bacterial strains. When probiotics are consumed, the bacterial strains present in it re-colonize the gut, combat the candida cells. It prevent the candida growth in future and thus yeast infections can be prevented.
Which Bacterial Strains Should a Probiotic Contain?
Here is the list of bacterial strains you have to look out for in a probiotic supplement.
Lactobacillus Acidophilus
Acidophilus for yeast infection is the most important bacterial strains to look for in a probiotic supplement. It will enhance the immune system, reduce the candida overgrowth. Taking this continually prevents the recurrence of yeast infections in future.
Lactobacillus acidophilus DDS-1, Lactobacillus casei, Lactobacillus plantarum, Lactobacillus salivarius, Lactobacillus rhamnosus, Lactobacillus brevis are the different acidophilus strains.
Bifidobacterium
This is also only the commonly found bacterial strain in probiotics. It helps in digestion, aids in the synthesis of vitamin B and supports the immune system.
Bifidobacterium lactis, Bifidobacterium longum are two different Bifidobacterium strains. You should have both or any one of them in the probiotics.
How to Select Probiotic Supplements?
Since not many of us have time to eat required amounts of probiotics though natural sources, scientists have made them simple and more effective in supplements form.
But when you opt for supplements, choosing a high-quality probiotic can be a challenging task. Here are a few parameters that you should look out on the product label while choosing a probiotic.
Strains of Bacteria it contains – Usually a probiotic contains several bacterial strains but Lactobacilli and Bifidobacillus are very important for treating yeast infection. They help in producing beneficial compounds which are helpful in maintaining the bacteria and yeast balance.
Of Strains: Choose a product that contains at least 5 different strains.
CFU (Colony Forming Units): CFU is a unit that is used to estimate the number of bacteria cells in a sample. The more CFU's the better for you.
Delayed-Rupture Technology – This states that the bacteria can survive the journey through the highly acidic stomach and reach the destination without any damage to the bacteria cells.
Apart from treating vaginal yeast infections, probiotics also help to treat several types of gastrointestinal disorders, boost immune system function, lower blood pressure and cholesterol.
Depending on the above mentioned characteristics and user rating, our research team has shortlisted the best 5 probiotic supplements. Have a look at their detailed description mentioned below and choose wisely…
Quick Comparison: Best Probiotic 
for Yeast Infection
[table id=8 /]
Among the 5 best probiotics for vaginal health, Renew Life Ultimate Flora Probiotic has taken the first place. Though the price is a little high, the effect makes it worthy to try.
As per the research, probiotics work effectively when taken with dairy products such as yogurt or cheese. You can add capsule powder to yogurt while having it.
Best Probiotics For Candida (Vaginal Yeast Infections)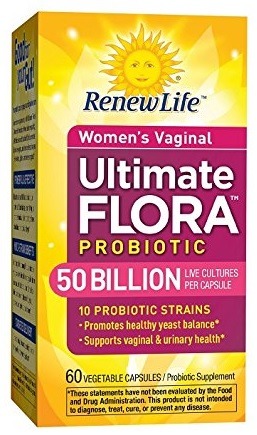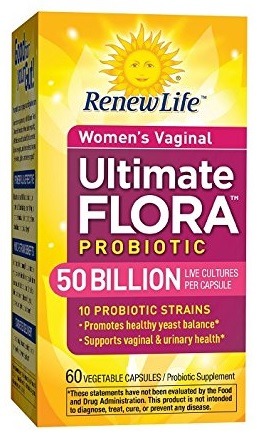 This product is a probiotic blend with a high-lacto formula which provides relief from both urinary and vaginal discomforts. They balance the microbiological flora which inhibit the female genital tract.
Apart from vaginal health, it also improves digestion and urinary tract health.
It should be stored in a cool dry place at 77F or below. But once you open, it would be best to keep it refrigerated.
Pros:
10 strains and 50 billion CPU's per capsule
Regulates pH levels of vagina
Treats vaginal viagnosis
Contains no dairy, soy, wheat, egg, tree nuts, egg, shellfish
It is Non-GMO
No artificial ingredients
Delayed rupture capsules
Cons:
Expensive
Not safe for kids
During initial dose, It may cause vaginal discomfort (itching)
Causes gas and bloating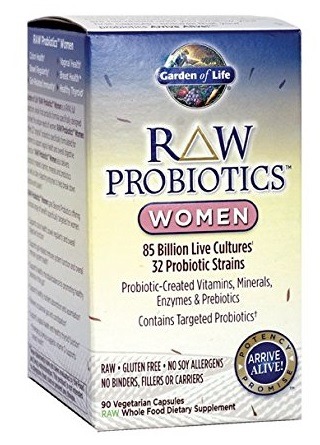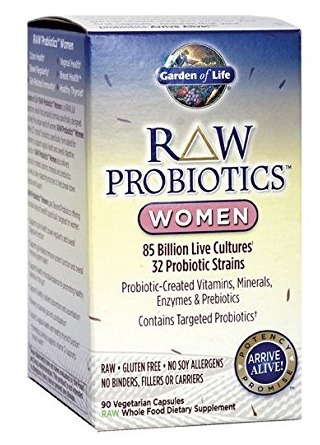 This product is a whole food based probiotic formula specially designed to support women's vaginal and digestive health.
It contains 32 bacterial strains, antioxidants, prebiotics, vitamins and minerals. It also contains digestive enzymes which help to break down lactose and casein.
As per a research, the L.rhamnosus and L. reuteri are beneficial in colonizing the vagina with friendly bacteria. Apart from vagina health, it also improves colon health, bowel regularity, gut immune system and thyroid function.
Pros:
32 bacterial strains and 85 billion CFU's per capsule
Gluten free
Doesn't contain soy allergens, binder, fillers and other carriers
Contains dairy digestive enzymes which provide relief from milk-related digestive issues.
Regulated by FDA and certified organic
Delayed rupture capsules
Cons:
It contains dairy so people allergic to milk should avoid it
It may cause gas and bloating
To be refrigerated once opened
Not intended for children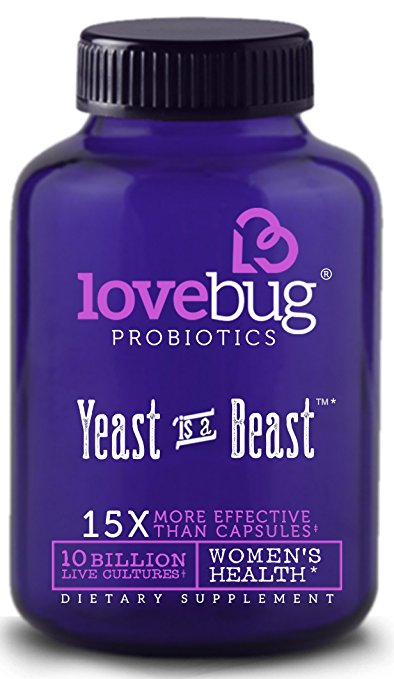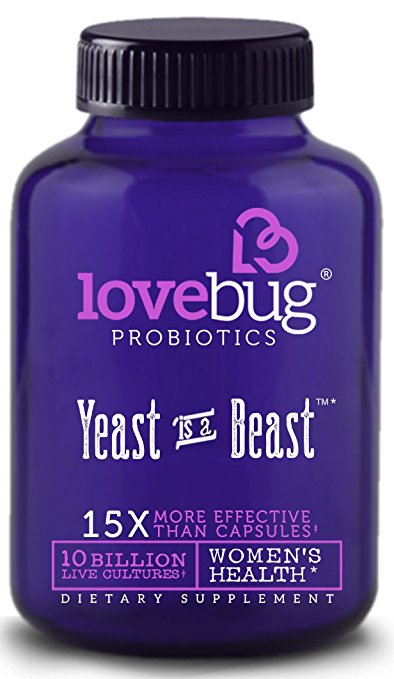 The lactobacilli present in it produces the lactic acid which balances the pH levels of the vagina. This makes an inhospitable environment for the yeast.
It has 10 billion live cultures and 5 bacterial strains. It contains cranberry extract and birch tree extract promotes urinary tract health and adheres the bad bacteria.
The tablet can survive in the harsh stomach acid and reach the intestinal tract where it colonizes the good bacteria. As it contains less number of strains and CFU's, it is beneficial in treating mild yeast infection.
Pros:
5 bacterial strains and 10 billion live cultures
Doesn't contain gluten, sugar, lactose, soy, nuts and wheat
No artificial flavors, colors and preservatives
Shipped in a cold pack
Delayed rupture capsules
Cons:
May cause gas and bloating
Needs to refrigerated once opened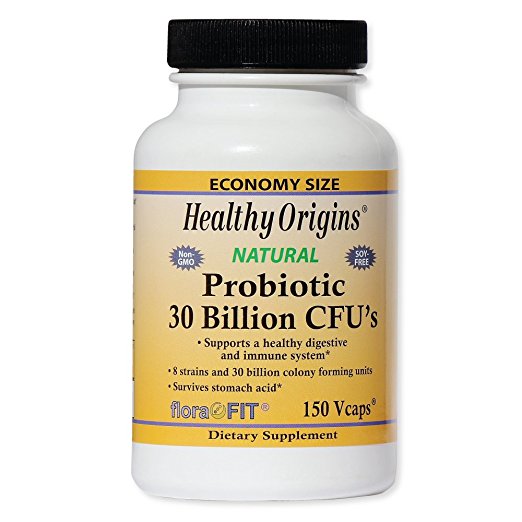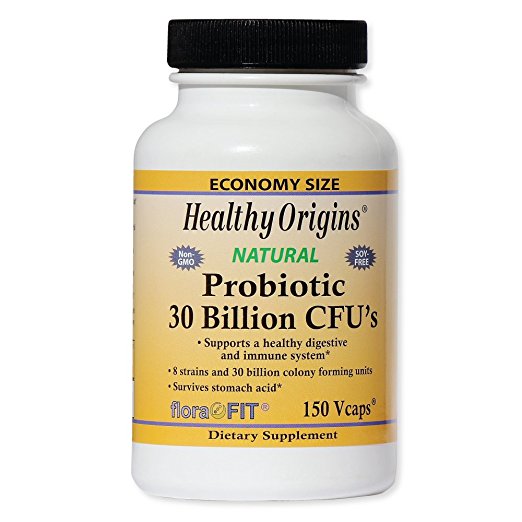 This probiotic supplement has everything that is beneficial for gut and vaginal health. Healthy Origins manufactures their products as per the strict FDA guidelines.
All the ingredients are clearly stated on the label of the product. They don't contain any hidden ingredients and fillers like dextrose and maltodextrin.
It also contains ingredients like microcrystalline cellulose, vegetable capsules that contain HPMC and water, magnesium stearate, and silicon dioxide. The product is effective for controlling recurrence of yeast infection, improving digestion and health of intestines.
Pros:
30 billion CFU's per capsule
8 different bacterial strains which includes Lactobacillus Acidophilus and Bifidobacterium Lactis
Delayed rupture capsule
Stable at room temperature
Doesn't contain sugar, salt, corn, fish, gluten, dairy and soy.
No artificial colors, flavors and preservatives.
Cons:
It may cause gas and bloating
A little pricey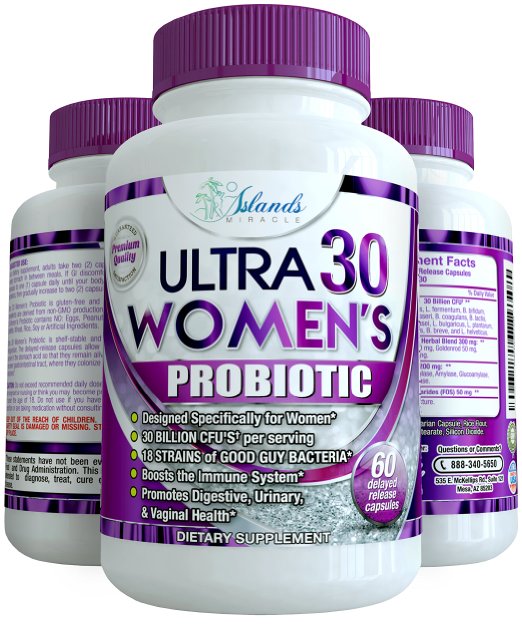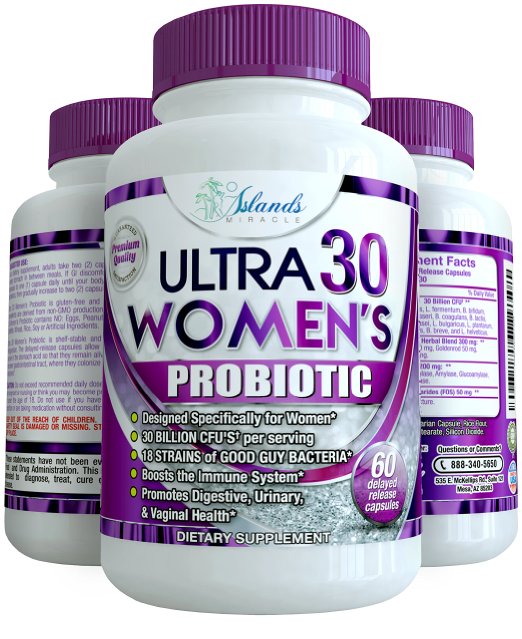 The product is specially designed for women to promote vaginal, intestinal and digestive health. It contains herbal blend which includes organic cranberry, goldenrod and bearberry extract.
This supplement is helpful in treating vaginal yeast infection, allergies, diarrhea, ulcers, constipation, bloating, and bowel irritations. It also helps to enhance the gut-immune system.
Pros:
18 bacterial strains and 30 billion CFU's per capsule
Doesn't contains synthetic fillers
Gluten and dairy free
Shelf stable and no refrigeration required
Cons:
Not recommended to pregnant and nursing women
People planning kids should avoid taking this product
Needs to be refrigerated once opened
How to Test the Presence of Live Bacteria?
As some probiotics are not shipped in an ice pack container, you may be concerned about the presence of live bacteria. This can be achieved through a milk test.
Add the contents of 1 capsule to a cup of milk. After few hours, if the milk curdles then it contains live cultures. If it doesn't, then the probiotics doesn't contains active live cultures.
A Word of Caution: Just like any other dietary supplement, consult your healthcare practitioner before any probiotic supplements, especially if you are pregnant, nursing, anticipate surgery, or under medical supervision.
Probiotics for Vaginal Health – What are the Benefits?
Apart from treating vaginal yeast infection, intake of probiotics on daily basis can have the following benefits…
Improved digestion.
Weight loss
Healthier skin
Increased production of vitamin B12
Strong immune system
Heal inflammatory bowel conditions
Fight food-borne illness
Treat leaky gut syndrome
Treat and prevent urinary tract infections.
What is the Right Dosage of Probiotics for Yeast Infection?
Different brands have different number of colony forming units (CFU's). A general dosage is 1 – 15 billion CFU's is considered as a good dosage. If you have been suffering from infections, then the more CFU's the better result.
Sometimes, few people may not tolerate the quick die-off symptoms. So, we recommend consulting a doctor to find out the right dosage as per the severity of the infection.
How Fast Do Probiotics Work for Yeast Infection?
The improvement and results depend on the level of yeast infection you are suffering from. So, it is difficult to tell the exact duration. We suggest taking probiotics on regular basis to observe improvement soon.
When is the Best Time to Take Probiotics?
As per Probiotics 101, the best time to consume probiotic supplement 30 minutes before consuming food.
Are Probiotics Safe to Consume During Pregnancy?
Both natural and supplements of probiotics are considered safe to consume during pregnancy. However, if you have any health condition that affects immune system then it is better to speak to a doctor before consuming it.
Remember that probiotic supplements and foods added to probiotics are not regulated. So, it is not possible to know whether they contains enough probiotics to have an effect on the baby.
There is no specific guidance on the amount of probiotic supplements to consume while pregnant, so make sure to consult your Gynecologist for further details and specific safe dosage as per your health condition.
Conclusion
Including probiotics in your diet or as supplements help in treating vaginal yeast infection and gastrointestinal issues. Choose wise among the brands and improve your gut health. You can also check this post for home remedies on preventing yeast infections. Don't forget to share your thoughts in the comments section below.