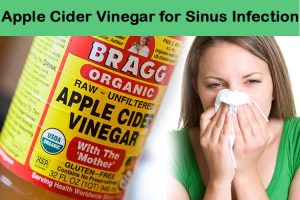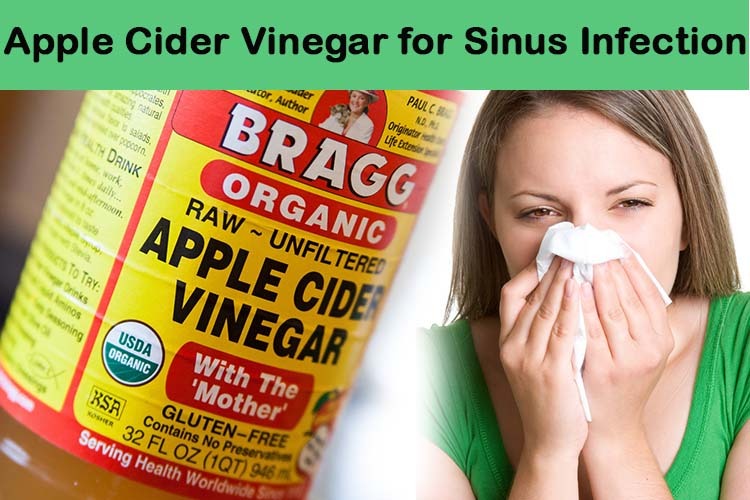 Dealing with sinus infection is too frustrating and annoying – Isn't it? However, it isn't too hard to treat sinus infection at home with home remedies like apple cider vinegar. Yes, it's true because it contains anti-inflammatory, mucus thinning and anti-bacterial properties.
Why do we get sinus infection? Sinuses are small cavities present in the skull which produce mucus and warm up the inhaled air. When bacteria enter into these cavities, sinus get inflamed restricting the flow of mucus. The mucus gets clogged up and creates congestion in the sinuses leading to pain, fever and headache.
And here in today's article, we will explain how you can use apple cider vinegar for sinus allergies effectively and get instant relief.
Can Apple Cider Vinegar Help a Sinus Infection?
The acidic content, antiseptic and antibacterial properties of ACV eliminate the bacteria and prevent the infection from getting chronic.
When taken orally, the high pH levels of ACV breakup the mucus and clears the airways. Therefore, you can consume apple cider vinegar for stuffy nose problem as well.
It contains B1, B2, A, and E, calcium, potassium, magnesium and other nutrients which clear sinus cavities, reduce allergy symptoms, boost immune system and prevent infection.
It acts as natural antihistamine which prevents the production and release of histamines.
How to Cure Sinus Infection with Apple Cider Vinegar?
There are several methods of using apple cider vinegar for treating sinus infection. For your convenience, we have mentioned them below.
1. Apple Cider Vinegar
This method works perfectly for treating sinus infection, allergies and sinus headache. If you are having ACV for the first time, then it is better to start with small amounts like 1 teaspoon to 2 tablespoon.
Add 2 teaspoons of apple cider vinegar into a glass of lukewarm water.
To enhance the flavor, add enough amounts of stevia as per your taste.
Mix well and consume it.
Repeat the method 2 times in a day for best results.
Gargle with this mixture for added results.
Note: Alternatively, you can combine 16 ounces of water and 1/4 cup of apple cider vinegar. You can sip throughout the day.
2. ACV Steam
The steam vapors help to open up the blocked nasal passages and thin down the mucus which in turn helps to drain out the sinuses.
Combine 1/2 cup each of apple cider vinegar and water.
Heat the mixture on the stove for 5 – 7 minutes.
Once the mixture is boiled, remove it from the flame.
Inhale the steam coming from the mixture for 3 – 5 minutes. Close your eyes and mouth while inhaling the vapors. Make sure you are not too close the mixture as it can cause burns.
Repeat the process regularly for best results.
3. ACV Brew
This process makes a DIY decongestant which clear the mucus from the nasal passages and helps in proper breathing. Cayenne pepper contains capsaicin which helps to reduce inflammation. Honey contains strong anti-bacterial properties. Lemon juice contains vitamin C  which cures and prevents infections.
Combine 1/4 cup each of apple cider vinegar and water.
Bring the mixture to boil and remove from the flame.
Now, add 1 tablespoon of honey and cayenne pepper into it.
Add some lemon juice, stir well and consume it.
Repeat the process regularly to achieve the desired results.
Note: For extra benefits, add a pinch of turmeric powder and 1/2 teaspoon of ginger powder into it.
4. Honey and Apple Cider Vinegar for Sinus Allergies
Honey contains strong antibacterial properties which fight with the bacteria causing infections.
Add 2 tablespoons of apple cider vinegar and 1 tablespoon of honey into a cup of warm water.
Stir well and consume the mixture immediately.
Repeat this method regularly to cure sinus infection.
5. ACV for Sinus Rinse
This process makes a DIY nasal spray which helps to get rid of sinus infection. Apple cider vinegar rinse eliminates the mucus that clogs the cavities and clear out the nasal passages. It also loosens the mucus and prevent the infection from becoming chronic.
Add 1/2 teaspoon of apple cider vinegar into cup of lukewarm water.
Using a spoon, snort a tablespoon of the solution in one nostril.
Tilt your head back and allow the solution to run down the back of the nose and down the throat.
Either spit out or swallow the solution.
Repeat with the other nostril.
Follow the process whenever required.
Note: If you know how to operate neti pot, then you can use it for this process.
6. ACV with Honey and Flaxseed
Mix 2 tablespoons each of ACV and V8 or orange juice.
Add the liquid to flaxseeds and add a little honey.
Drizzle the mixture over a salad and eat it.
Repeat regularly to get relief from sinus infection.
Tips and Precautions:
If you cannot withstand the taste of ACV then you can take it in supplements form or capsules to fight sinus infection.
Practice healthy habits like drinking plenty of water, washing your hands, avoiding smoking and drinking alcohol.
Use saline sprays frequently to keep your nose moist.
Place a warm compress on you face covering nose and eyes for as long as possible and several times in a day. It helps to thin down the mucus, reduce pain, headache and facial soreness.
Avoid consuming caffeinated drinks which lead to dehydration. It is also one of the reasons for sinus infection.
Consuming excessive amounts of apple cider vinegar for sinus infection can irritate the esophagus, damage teeth, cause canker sores or sore throat. So, it should be diluted before consuming ACV if concerned about these risks.
ACV can react with other drugs and supplements such as diuretics and insulin, leading to medical problems like potassium depletion.
Always consult your doctor before trying out any remedies for treating sinus infection.
Avoid trying the above mentioned remedies, if you are pregnant, diabetic or breastfeeding.
Avoid consuming cold drinks and ice-creams until you get relief from sinus infection.
As dairy products increase phlegm, it is better to avoid them in your daily food routine.
Taking ample amount of rest helps supports speedy recovery.
Drink plenty of water to flush out toxins and keep your nasal passages moist.
If you are using apple cider vinegar for sinus allergies, keep a track of how you are feeling and the improvement you are making. If you haven't seen any improvement even after few days, then consult a doctor.
You can share your queries, suggestions and experiences in the comment section below. We will reply to your queries as soon as possible.