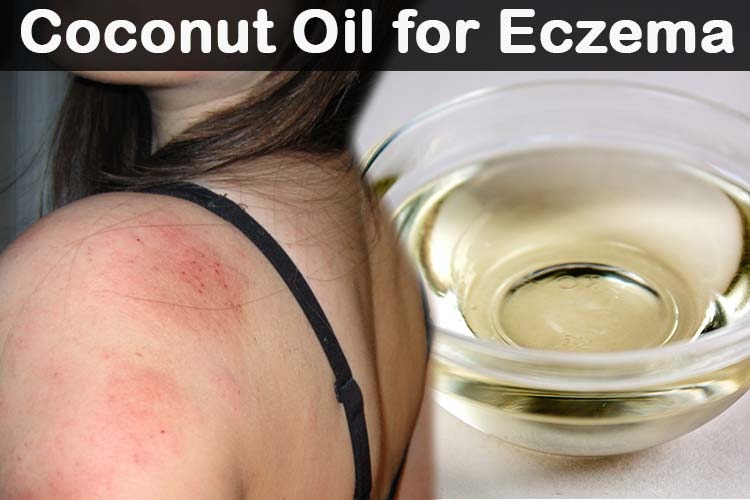 Atopic dermatitis or eczema affects almost 28 million people of all ages in United States. (1) It is a term that describes autoimmune skin condition which results in red, itchy, dry, and flaky skin. Particularly, people with sensitive and excessively dry skin are more prone to it.
As per American Academy of Dermatology, eczema is caused due to weak immune system. Usually, immune system protects us from bad stuff like infections and diseases. However, due to some reason our immune system gets crazy and overreacts to certain things like tough, allergens, soap, dust and so on. (2) The exact reason for the change in immune system is still unknown.
As per National Eczema Association, eczema cannot be cured however in most of the cases, it can be managed to a maximum extent. (3)
Instead of conventional methods like steroids or others, eczema can be effectively and safely managed by natural methods like coconut oil.
[toc]
How Does Coconut Oil help With Eczema?
1. It is Moisturizing
People suffering from eczema have excessively dry skin because it cannot hold moisture in the skin cells. They are usually prescribed oil based moisturizers to prevent the water loss by forming a barrier on the skin surface.
Instead of chemical filled moisturizers, you can trust coconut oil to avail the same benefits and avoid side effects. Coconut oil easily gets absorbed into the skin as it works an emollient in maintaining the skin moisturized, supple and hydrated. (4) It avoids brittle skin and prevents skin from breaking up.
2. Has Immunomodulation Effect
When antihistamine and corticosteroid creams don't work, doctors usually prescribe inhibitors for immune suppression. But all those steroid treatments have severe side effects and some of them even have FDA warnings.
Coconut oil has a similar immune modulating action like prescribed steroid treatments but it comes without any risk when consumed as recommended. (5)
3. Antibacterial
The lauric acid, a fatty acid present in coconut is responsible for the antibacterial properties. The lauric present in it is converted into monolaurin in the body. This compound protects the skin against bacteria, fungi, protozoa, or others. Coconut oil is more effective in dealing against Staphylococcus aureus which often causes infections and worsens eczema. (6)
4. Anti-inflammatory
People suffering from eczema are prone to skin inflammations which may be triggered by many factors like sweating, climate, wind, pollen, detergents, or any others. These inflammations may quickly develop into severe flare ups. The progress of flare ups can be restricted and prevented with coconut oil application. Â (7)
5. Strengthens Skin Tissues
Coconut oil is rich in fatty acids called MCFAs – medium-chain fatty acids or MCTs – medium-chain triglycerides. They easily penetrate into the skin membranes and strengthen the connective tissue. This leaves the skin elastic and supple.
6. Relieves Itching
Itching is one of the troublesome symptoms of eczema. When you scratch, the sensitive skin gets broken. This invites bacteria to thrive and lead to infection.
7. Completely Safe
Coconut oil is gentle, non-toxic and safe for topical applications in most of the cases. Internal consumption is also safe until taken in small quantities. It is even safe to use on newborn babies, and people with extremely sensitive skin. (8)
How to Use Coconut Oil for Eczema?
Coconut oil can be used in different types like a moisturizer, cooking oil, ointment, cream and many others. We have provided them below with step-by-step process. You can use them as per your preference.
Quick Note: If you are allergic to coconuts then it is better avoid it. It is always recommended to do patch test before trying out these remedies.
1. Coconut Oil as Moisturizer
It can be used for eczema on hands, legs, neck, eyes and other affected areas. It moisturizes the skin and prevents the skin from drying out.
Spread a thin layer of coconut oil on affected areas and leave it on till the skin absorbs it completely. Applying immediately after bath can provide better a soothing effect.
Repeat the process 3 times daily.
Alternatively, you can apply before going to bed and leave it overnight.
Note: If you are applying coconut oil for eye or eye lid eczema, then make sure the application doesn't get into the eyes. Unfortunately if it happens, rinse the eyes with water and pat dry.
Recommended
2. Coconut Oil Bath
This process helps to heal eczema in hard to reach places like back or buttocks. It also provides relief from itching, irritation and inflammation.
Fill your bathtub with lukewarm water.
Add 1 cup of coconut oil to it and mix well.
Soak and relax in it for an hour.
After this, pat dry using a soft cloth or towel.
Repeat the process daily.
Alternative Method: Add 1/2 cup ground oatmeal and 2 tablespoons of coconut oil (melted) into bathwater and soak in it for an hour.
3. Coconut Oil and Vitamin E Oil
This process is safe and effective for toddlers and people with very sensitive skin. (9) Various studies have also proven the effectiveness in treating eczema.
Take a jar and add 6 tablespoons coconut oil (liquid state), 2 tablespoons each of rosemary oil and vitamin E oil.
Mix the ingredients well and cover the jar with a tight lid.
Apply this lotion on affected areas 2 times in a day.
Recommended
4. Coconut Oil with Lavender Oil
Several aroma therapists treat many skin ailments like eczema symptoms, acne, wounds and other fungal infections with lavender oil. (10)
Mix 1 tablespoon of coconut oil and 2 drops of lavender oil.
Apply it on affected areas and leave it on till the skin absorbs it completely.
Repeat 2 times in a day.
Recommended
5. Anti-Itch Ointment
Shea butter contains amazing moisturizing properties. Various studies have been conducted to know the efficacy of shea butter in treating eczema and the results were positive. (11)
Combine few drops of coconut oil and 1 tablespoon of African shea butter.
Apply a thin layer on eczema affected areas.
Repeat 2 times in a day.
Recommended
6. Coconut Oil Body Scrub
This process will help to exfoliate the dead skin cells and coconut oil helps our skin to produce natural oils.
Mix 1 part coconut oil and 2 parts sugar.
Gently massage the mixture on affected areas.
Rinse off with lukewarm water.
Repeat 3 times in a week.
Alternatively, you can use brown sugar.
7. Soothing Butter with Coconut Oil
Using a double boiler, melt down2 tablespoons beeswax, 4 tablespoons jojoba oil.
Once they are melted, add 6 tablespoons of coconut oil and stir until completely melted.
Set the heat to low and add 2 tablespoons shea butter and let it melt.
Stir well and remove from the flame.
Let the mixture slightly cool down to room temperature. You can place it in refrigerator but don't let it harden completely.
Using a mixer, mix several times until it forms frothy appearance.
Transfer into the Mason jar or other container and stir in 2 drops of lavender oil.
Apply a small amount of the mixture on affected areas and let it dry.
Repeat 2 times in a day.
Recommended
8. Homemade Eczema Cream
By following the below process, you can make an eczema cream. This is a perfect alternative for commercial chemical based creams. This cream is safe and effective for toddlers as well.
Using a double boiler, melt 1/4 cup each of coconut oil and shea butter.
Once the oils meltdown, remove from the flame.
Let the mixture cool down slightly.
When the mixture is warm enough, add 15 drops lavender essential oil and 5 drops tea tree oil.
Store this mixture in the refrigerator if your house is warm.
Spread a small amount of it on affected areas 2 times daily.
For extra benefits, add 1/2 tablespoon honey.
Recommended
9. Body Butter with Coconut Oil
Using a double boiler, gently warm 1/2 cup coconut oil.
When it melts, remove from the heat.
Allow it to cool slightly and add 20 drops each of lavender oil, cedarwood oil, and frankincense oil.
Stir well and pour into a small glass container and store out of direct sunlight.
Apply a small amount of it on affected areas.
Repeat the process 2 times daily.
Recommended
10. Eczema Moisturizer
Oatmeal contains emollient properties which help to moisturize and nourish the skin. (12) It keeps the skin soft, supple and hydrated.
Finely grind 1/4 cup of oats.
Over very low heat, melt 3/4 cup coconut oil.
Add few drops of rosemary oil and ground oats.
Mix well and add 1 tablespoon olive oil.
Once the ingredients are combined well, remove from the heat and pour the mixture into a glass container.
Set it aside to let the mixture harden.
Apply the moisturizer on affected areas regularly.
11. Eczema Salve
This solution is safe for children and people with sensitive skin as well.
Using a double boiler, add 3 tablespoons beeswax pellets and let it melt.
Once it is melted, add 1/4 cup coconut oil, 1/2 cup avocado oil and 2 tablespoons of shea butter.
Once all the oils are melted and incorporated well, remove from the flame.
Pour into a jar and place in refrigerator to harden.
Apply a small amount of the mixture on affected areas.
Repeat the application daily.
Recommended
12. Coconut Oil Mask
Mix 1 teaspoon each of coconut oil, turmeric, and raw honey.
Clean the affected areas with water and apply the mixture.
Let it sit for 15 minutes and rinse off with water.
Pat the skin dry.
Repeat 2 times in a week.
Alternatively, you can avoid turmeric or honey (anyone) if you are allergic to pollen or curcumin.
Recommended
13. Coconut Oil Lotion Bars
Using a double boiler, melt 1 ounce beeswax and 3 ounces each of coconut oil, shea butter.
Once the oils melt completely, pour into the molds.
Let it set aside to harden.
Remove from the molds and store in a container or zip lock bag.
Apply the lotion, right after having a bath.
Repeat daily.
14. Coconut Oil Soap for Eczema
Chemicals present in commercial soaps can be harsh and cause more damage to eczema affected areas. Below is the recipe for soap which is good for eczema.
Using a double boiler, melt down 2 pounds of "Melt and Pour†Soap Base.
Add 1/4 cup of organic coconut oil to it.
After both the ingredients completely melt down, remove from the flame.
Add essential oils and fresh herbs of your choice and stir well.
Pour into molds and set it aside to harden.
Remove from the molds and store in airtight container.
For bathing, use this soap instead of chemical based ones.
Recommended
15. Coconut oil for Eczema on Scalp
This process gives relief from dandruff, itching, flakes and other discomforts caused by eczema.
Slightly warm 3 tablespoons of coconut oil.
Using your fingers, gently massage oil into the scalp.
Leave at least for 1 hour or overnight.
Use a mild shampoo to wash your hair.
Repeat the process 3 times a week.
16. Treating Eczema in Infants
This daily process can be followed to treat eczema in infants.
Add few drops of coconut oil to your baby's bath.
Pat dry and apply a thin layer of coconut oil on eczema affected areas like tummy, elbows, cheeks, hands and feet.
Leave it on and dress them in clean and loose fitted clothing.
Repeat the application of coconut oil 2 – 3 times throughout the day.
Make sure to apply before going to bed.
17. Coconut Oil in Diet
Consumption of coconut oil helps to strengthen the immune system and speed up the healing process.
Process 1:
Consume 2-4 tablespoons of coconut oil daily.
Or use coconut oil to prepare dishes.
Or you can also add it while preparing smoothie or drinks.
Process 2: As Vinaigrette
In a bowl, mix 1/2 cup liquid virgin coconut oil, 1/4 cup of your favorite vinegar, 1/2 cup of extra virgin olive oil and sea salt, pepper as per your taste.
Mix the ingredients well and use it as dressing for salads.
You can use the remaining for future use. Make sure to warm it a bit before using.
18. Coconut Oil and Aloe Vera
Aloe vera is one of the natural treatments for eczema as it contains hydrating and moisturizing properties. (13) It also helps to rejuvenate the skin and speed up the healing process.
Combine 1/2 cup organic extra virgin coconut oil and 1/3 cup of pure aloe vera gel. (Avoid melting coconut oil before combining it with aloe vera as it will whip properly.)
Using an electrical or hand whisker, whisk the ingredients until it forms a fluffy and airy cream.
You can add few drops of any essential oils while whipping for added benefits.
Transfer the whipped cream into an airtight container and store at room temperature. If your home temperature is melting it then refrigerate it to maintain the creamy consistency.
Apply enough amounts of the mixture on the affected areas.
Repeat the application daily.
Recommended
19. Coconut Oil and Neem
Neem contains two anti-inflammatory substances – nimbidin and nimbin. It is known to provide relief from all types of allergies and skin ailments caused by bacteria. It analgesic properties provide relief from extreme itching. (14)
Fry handful of neem leaves in coconut oil until they turn black.
Remove from the flame and let them cool down.
Strain and pour the oil solution into an airtight container.
Apply the oil on the affected areas 3 – 4 times in a day.
20. Coconut Oil and Lemon Juice
The acidic property of lemon juice contains antiseptic properties which lighten the old eczema scars. Lemon juice contains vitamin C which helps our body in generating new skin cells.
Combine few drops of lemon juice and coconut oil.
Mix well and apply the paste on the affected areas.
Leave it overnight and rinse off in the morning.
Repeat the application 2 times in a day.
21. Coconut Oil for Vulvar Eczema (genital)
Coconut oil is one of the effective ways to relieve vaginal itching caused by bacterial vaginosis, eczema or candida. The fatty acids present in it soothe the itchy skin while its antimicrobial properties deal with infections. It is also a perfect solution for vaginal dryness.
Soak a tampon in coconut oil (liquefied) for a minute.
Insert the tampon into your vagina.
Leave it for 8 hours or overnight to reduce the infection and itchiness.
Remove the tampon and rinse off with warm water.
Repeat the process daily until you get relief.
22. Eczema during Pregnancy
Pregnancy can worsen the eczema and makes your skin super sensitive to certain things that didn't bother before. This is caused due to hormonal imbalance in the body.
Massage 1 – 2 tablespoons of melted coconut oil on the eczema affected areas like neck, face, hands, feet, eyes and tummy.
Leave it to dry completely.
Repeat the application 3 – 4 times in a day.
23. Oil Pulling
Oil pulling is an ancient remedy for detoxification. This technique is known to clear eczema, psoriasis, sinusitis, acne and various other problems.
Take 1 tablespoon of warm coconut oil (liquefied) into mouth. You can increase the coconut oil quantity slowly to 2 – 3 tablespoons.
Hold it for 5 – 10 minutes while gently swishing.
Spit it out and rinse your mouth with salt water.
Repeat the process daily.
Note: Don't swallow the oil. Children should not avoid trying this method.
Which type of Coconut Oil is Effective on Eczema?
Not every coconut oil is safe and effective. When you are looking out for the effective one, you should consider only virgin, unrefined, cold compressed and organic coconut oil.
Why…?
Refined coconut oil is prepared from dried coconut meat and during preparation various chemicals are used for extended shelf life.
Virgin coconut oil is prepared from fresh meat without any chemicals added. So it has many nutritional benefits and effective than refined ones.
Recommended Brands:
FAQ's
1) Does Coconut Oil Causes Flare-ups or Breakouts?
For most of the people, coconut oil is safe and doesn't cause any irritation or breakouts.
But due to over-usage of steroid creams for a very long time, skin gets super sensitive. So when you apply coconut oil the skin breaks out due to the heat created by it. This can happen even with other oils as well.
Stop topical application of coconut oil until your skin is no longer sensitive. To achieve this you have to stop using steroid creams as well.
The useful way of getting all those nutrients and benefits of coconut oil is to consume it.
2) How Long Does it Take for Coconut Oil to Cure Eczema?
It is difficult to tell the exact time frame as eczema is an auto-immune disease. You can only reduce its symptoms to maximum extent.
Time taken to reduce the symptoms depends on the severity level of the flare up. It usually takes at least a month to see the improvement.
3) Coconut Oil Vs Olive Oil – Which one is more effective?
As per the a study published in International Journal of Dermatology in 2014, researchers gave virgin coconut oil to 26 patients and virgin olive oil to another set of 26 people. After 4 weeks, it has been proved that people who took coconut oil showed positive results by an average of 46.8% and people who took virgin olive by 30.1%. So, the effectiveness of coconut oil is more than olive oil. (15)
4) Can Coconut Oil Worsen the Eczema?
Coconut oil can worsen eczema if you are allergic to salicylates. Salicylates are natural pesticides produced by plants to protect themselves from spoiling and bugs. (16)
People with sensitive skin and eczema often don't realize that they are allergic or sensitive to salicylates. It can trigger a quick flare up or worsen it in no time. In some mild to moderate cases, salicylates may not have major impact in worsening it. So, we recommend patch testing before trying it.
Tips and Precautions
Consuming more amounts of coconut oil can lead to high blood pressure, an increase in cholesterol levels and blockage of arteries. So limit your consumption.
Topical application of coconut oil is safe for pregnant and lactating mothers.
Replace your commercial moisturizer, makeup remover, and lotions with coconut oil.
Avoid scratching as it can worsen the infection.
Avoid wearing tight or silk clothes which worsen the itchy feeling. Always opt for loose and smooth clothes which help the skin breathe properly.
Avoid using harsh soaps and shampoos as they dry out your skin and worsen eczema.
Avoid dishwashing, long showers, swimming and frequent hand washing.
Take vitamin D3 supplements to boost your immunity or expose to early sun rays for 20 minutes daily to get enough vitamin D.
Avoid consuming high carb, gluten, processed and junk food.
Was this article helpful? Do you have any other remedy that works best for eczema? Write to use in the comments section below.