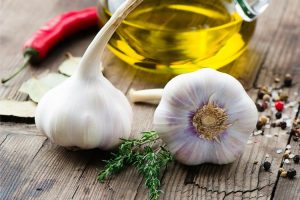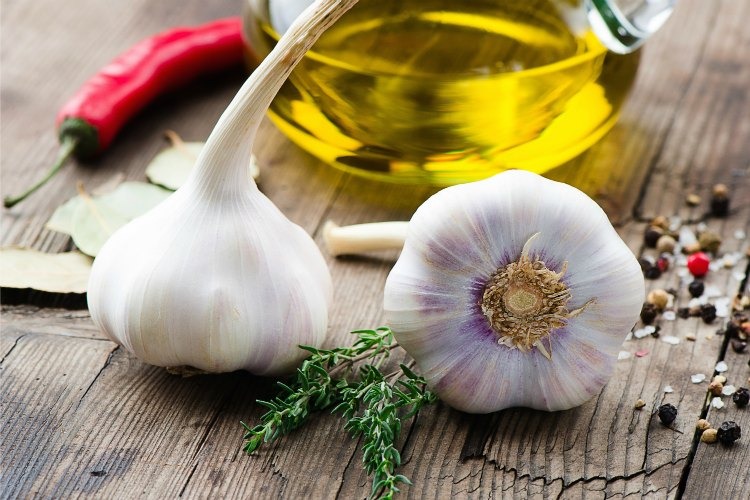 Cold sores (fever blisters or oral herpes) are caused by herpes simplex virus-1 which usually breakout on lips, nose and chin. This virus enters into our body through cuts, wounds or scratches. Being highly contagious, it can also get transferred from one person to another through touch or sharing their objects. Usually, cold sores get healed within 2 weeks but the virus stays dormant in our body. Whenever your immune system becomes weak, it again gets active and develops cold sores.
As per Memorial Sloan-Kettering Cancer Center, raw garlic has shown positive results in treating cold sores. The topical application helps to speed up the healing process while internal consumption helps to strengthen your immune system to prevent the recurrence of oral herpes.
Still Wondering! Then here is how exactly Garlic is Helpful in Treating the Cold Sores….
Garlic contains antibacterial, antiviral, antimicrobial, anti-parasitic and antiseptic properties which deal with the herpes simplex virus. Allicin, kyolic compound, vitamin B6 and enzymes present in garlic are responsible these beneficial properties.
It contains anti-inflammatory properties which reduce the swelling, pain and redness.
It contains anti-oxidant property which helps to speeds up the healing process.
How to Use Garlic for Healing Cold Sores?
Below, we have mentioned a detailed description of using garlic for treating cold sores. Follow any of the method regularly to get relief from the cold sores.
1. Garlic Paste
Crushing the garlic cloves enables to activate the allicin compound in it. This compound is responsible for the antiviral properties in the garlic.
First of all, take some garlic cloves.
Place them in mortar and pestle or in grinder.
Crush them properly by adding a little of water in it to make paste.
Apply this paste on the areas where it is affected with cold sores.
Let it sit for few minutes and then remove the paste on the cold sores area.
Wash it off properly with water and pat dry the skin.
Regular follow up of this process will definitely help you to clear the cold sores on the skin.
Note: you can add the garlic paste into an empty lip balm and use it to apply on the affected area easily. Once the cold sore or oral herpes is healed, discard the remaining garlic paste.
2. Garlic Slice
Placing a garlic slice on the cold sore helps to reduce the swelling and pain quickly. It also helps to kill the virus responsible for the development of fever blister.
Peel and slice a garlic clove.
Place the garlic slice on the cold sore.
Hold it on for few minutes till stinging sensation stops.
Now, take out the garlic and wash the cold sore gently with soapy lukewarm water.
Pat the skin dry to clear the infection.
Repeat the application on the cold sore for about 2 – 3 times daily until you get rid of it.
3. Garlic Juice
This is one of the hazel-free solutions to get rid of cold sores without any side effects. If you don't have fresh garlic to extract juice, then you can use store brought ones as well.
Extract juice from garlic cloves.
Using a cotton ball, apply the juice on the cold sores.
Leave it on for minutes to dry.
Rinse off the application with water and pat dry.
Repeat the application regularly until the cold sores are completely cleared.
4. Garlic Oil and Olive Oil
This combination helps to treat the infection, reduces the inflammation, speeds up the healing process, and repairs the damaged skin. When combined with olive oil helps to reduce the skin irritation caused by the potent nature of garlic oil.
Combine equal amounts of garlic oil and olive oil.
Using a cotton ball, apply the mixture on the affected areas.
Leave it on for few minutes to let the skin absorb it. You can also leave it overnight for more effective results.
Rinse off with warm water and pat the skin dry.
Repeat the process regularly till the cold sores or oral herpes get cleared.
Note: You can use coconut oil instead of olive oil.
5. Garlic and Avocado
Both garlic and avocado contain vitamin E which helps to boost up the nutritional level which in turn improves the immunity system to fight against the herpes virus.
Peel and crush few garlic cloves.
Combine enough amounts of avocado pulp and garlic paste.
Mix well and consume it.
Repeat the consumption regularly to treat and prevent cold sores.
Note: You can use garlic oil or garlic juice instead of garlic paste.
6. Garlic Drink
This garlic drink contains activated allicin, enzymes and other beneficial compound which are helpful in boosting your immune system which is essential for fighting with herpes simplex virus causing cold sores.
Crush 2 – 3 garlic cloves into a fine paste.
Add the paste to a cup of water.
Stir well and drink it immediately.
Continue the process regularly to prevent recurrence of cold sores.
7. Garlic and Honey
Honey contains antibiotic property which helps to soothe the cold sore irritated skin area. Garlic has anti-viral property that helps to kill the herpes virus causing cold sores.
Crush 2 garlic cloves into a paste.
Add it to 1 teaspoon of honey and mix well.
Apply the mixture on the cold sores.
Leave it on for few minutes or until it dries completely.
Rinse off with water and pat dry.
Repeat the garlic – honey application to get rid of oral herpes quickly.
8. Garlic Powder
If fresh garlic is not available then you can try using garlic powder instead of it. Though it doesn't provide the same effectiveness, it is still a good way to heal the cold sores.
Combine 1 teaspoon garlic and enough amounts of water to make a paste.
Keep it aside for 2 minutes to activate the allicin compound.
Spread the paste on the cold sores.
Leave it on to dry completely and rinse off with water.
Repeat the process daily to treat the cold sore.
Internal Consumption of Garlic for Treating Cold Sores:
Internal consumption of garlic helps to boost the immune system which helps to deal with the virus and prevents it from developing cold sores. Eat 2 – 3 garlic cloves regularly. You can add them to soups, salads, sauce, bread or gravies.
Garlic Capsules/Pills for Cold Sores:
If you don't like consuming garlic then taking them in supplement form is the best alternative. Taking garlic capsule regularly provides effective results in treating cold sores. If you are taking for the first time, it is better to start with small dosage. The quantity of garlic component differs based on the brands and garlic supplements can interact with few medications. So, to be on safer side we request you consult a doctor to find out the right dosage as per your medical history.
Tips and Precautions:
Due to its potent nature, garlic can cause stinging sensation or other discomforts. If the discomfort is unbearable or if it stays for a long time, then avoid using this process.
Consuming more than 2 garlic cloves may cause gastrointestinal effects due to the enzymes present in it.
If consumed in large quantities regularly, then garlic can cause bad breath, intestinal gas, bloating and nausea. This warning was stated by University of Maryland Medical Center.
It might interact with certain medications like blood thinners, so always consult your doctor before taking garlic as a remedy for cold sores.
Be careful while applying the garlic juice. If it enters the eyes, then can cause irritation and burning sensation.
If you have sensitive skin, avoid direct application of garlic as it can cause irritation and other discomforts. Make sure to dilute it before application.
However applying garlic (which is slightly acidic) on the cold sores will be painful but the regular application will reduce the pain caused by it.
Make sure to wash your hands after the application on the cold sore to avoid the spread of infection to other parts.
If you're pregnant or nursing women, then you should consult the doctor before taking garlic for treating any health ailment.
If you're using garlic as a medicine for children who are less than 8 years then consult a doctor to know proper dosage of garlic for cold sores on children.
Apart from following these remedies, you have to consume foods that strengthen the immune system and maintain proper hygiene.
Try to reduce your stress levels by doing yoga or meditation. As increased stress levels can have negative impact on hormones.
Make sure to brush your mouth after eating raw garlic cloves to avoid bad breath.
By following any remedy regularly and considering the tips mentioned above, you can treat the cold sore without any side effects. If you have any concerns or suggestions then write to us in the comment section below. Don't forget to share your experience as it can provide confidence in others to try the methods and get relief.