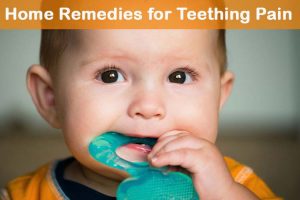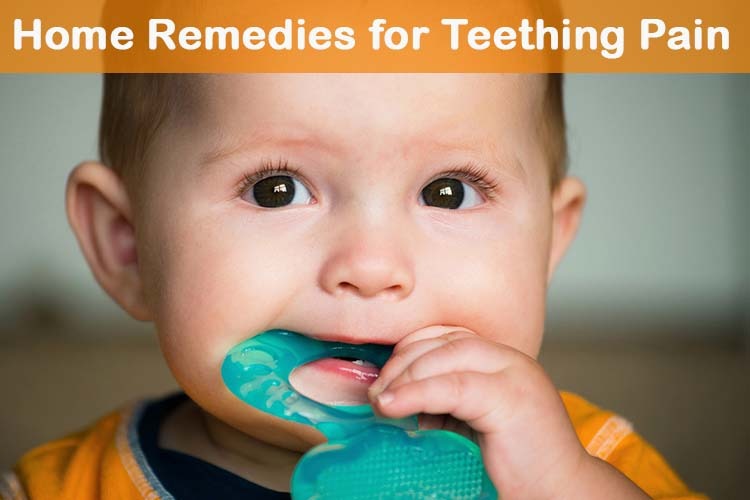 Teething is a painful process for every baby. The first set of teeth usually begins to break through the gums at around 6 months, but teething can occur at any time between 3 months and one year of age. By age 3, a child usually has all 20 primary teeth.
Most of the pain of teething occurs 3-5 days before a tooth actually breaks through the gums. Babies tend to bite fingers or toys to relieve the pain, and some will even refuse to eat or drink.
Home Remedies for Teething:
There are several safe, effective ways to relieve toothache using simple, natural ingredients you probably already have in your home. Ready to find out what they are? Let's get started.
1. Ginger
Ginger is naturally anti-inflammatory, so it soothes nerve endings.
Process:

Peel a small chunk of ginger and rub your baby's gums with it for 2-3 minutes.
Do this whenever necessary to relief from teething pain.
2. Vanilla
Vanilla extract calms nerves.
Process:
Rub it into your baby's gums and gently massage for 2-3 minutes.
Do this whenever necessary.
3. Banana

Put a frozen banana slice on your baby's gums and hold it there for 30 seconds.
The cold will numb pain, and the softness of the fruit will not cause discomfort.
Note: You can give any chilled fruit to baby.
4. Cold Foods
Give your baby cold foods like yogurt or applesauce to help numb teething pain.
Repeat as often as needed.
5. Cool Spoon
The American Dental Association recommends this.
Process:
Cool a metal spoon in the refrigerator for a few hours and then putting it in your baby's mouth to numb pain.
Don't put the spoon in the freezer.
6. Almond Extract
Almond extract soothes pain.
Process:
Mix a few drops almond extract with a few drops of water.
Rub it into your baby's gums whenever he is in pain.
Note: You can use cotton q tip to rub the solution.
7. Ice

The cold ice will reduce the swelling and numb the pain. This home remedy is also great for root canal pain.
Process:
Wrap an ice cube or two in a clean, dry towel and give it to your baby to suck on.
Make sure she doesn't chew directly on the ice cube, as it may damage gums.
Repeat this weekly twice or thrice whenever your baby has more pain.
8. Cool Cloth
Place a clean, dry washcloth in the refrigerator for an hour.
Give it to your baby to chew on.
The cold will ease the inflamed gums and numb the pain.
9. Frozen Bottle
Fill a baby bottle with water, leave it in the freezer for an hour, then give it to your baby.
The cold of the nipple and the water will relieve teething pain.
10. Ground Cloves
Cloves relieve teething pain and also helps relieve dry socket.
Process:
Grind cloves to make powder, then mix with enough water to make a paste.
Rub the paste on your baby's gums whenever she's in pain.
First try it on yourself to make sure it will not harm her if she swallows it.
11. Bagel
Refrigerate a plain bagel and give it to your baby to gnaw on.
The coolness and chewiness of the bread will relieve teething pain.
12. Cold Apples
Place apple slices in the fridge and give them to your baby to chew on when he's in pain.
You can also try wrapping cooled apple slices in a cool, clean cloth and letting him chew on that.
You can also give clean peeled carrot but not baby carrot.
13. Hard Biscuits
Give your baby a plain, unsweetened, semi-hard biscuit to chew on when she's in pain.
The pressure of biting relieves the pain, and the action of gnawing distracts her from it.
14. Beef Jerky
Beef jerky is chewy, so the pressure of biting it will relieve teething pain while the good taste will keep your baby interested in it.
Process:
Give a small piece of jerky to baby to chew.
Check after 10 – 15 minutes to change the jerky.
Observe carefully whether the baby is chewing or biting it hardly.
Repeat it if your baby chew it carefully
Other Tips for Relieving Teething Pain
Gently massage your baby's gums with clean fingers to relieve pain.
Distract your baby from pain by playing games with her, showing any visualization games or pictures in the system.
Give your baby soft, chewy, clean and nontoxic objects to chew on.
Keep a towel handy because teething often involves a lot of drooling and saliva which makes baby feel uncomfortable.
Keep your baby's gums clean by gently rubbing with a soft children's toothbrush.
Give your baby soft, chewy refrigerated teething rings and toys.
Put an amber teething necklace on your baby when she starts teething.
If your baby doesn't like chewing cold things, chewing room-temperature things will also help.
Give your baby popsicles to numb his gums.
Make sure your baby gets plenty of calcium and vitamin D, which make teeth strong.
If none of these remedies work for your baby, or if the pain appears to be abnormally severe consult a doctor.
Have you tried any of these home remedies for teething pain? Which ones worked best for you? Share your experience with us!