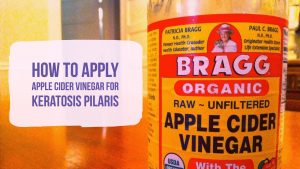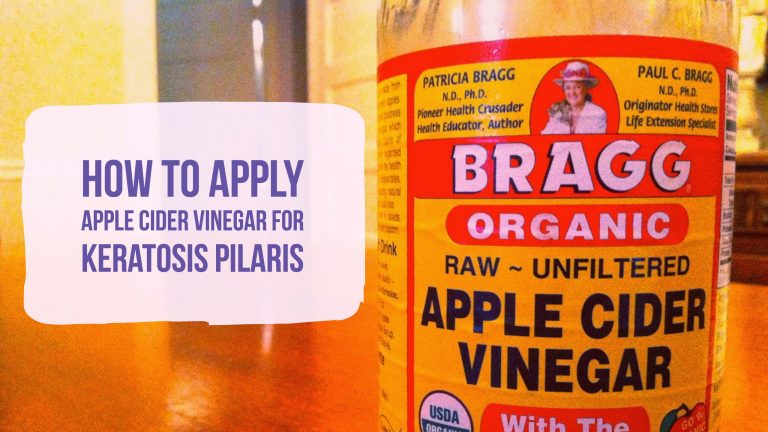 As per a survey, keratosis pilaris is suffered by 1 in 5 people in the United Kingdom. People suffering from keratosis pilaris often get bullied, embarrassed or discriminated of the skin condition.
Keratosis pilaris also known as chicken skin appears as tiny bumps on upper thighs, arms, back, and buttocks. It becomes more prevalent in winter months because of the less humid and cold weather.
These embarrassing and annoying tiny bumps are caused by dysfunctional keratinization. When our body produces excess keratin, it clogs the hair follicle which appears as a tiny bump externally.
This skin condition is painless, non-contagious and doesn't lead to any serious health complications.
Keratosis pilaris cannot be cured completely but it can be controlled to a maximum extent.
Treating keratosis pilaris doesn't necessarily need a dermatologist help. It can be reduced at the comfort of your home.
Home remedies like apple cider vinegar are one of the most trusted methods of reducing keratosis pilaris. Let's learn more about it…
Does Apple Cider Vinegar Work for Keratosis Pilaris?
Being an astringent, it unclogs the pores and shrinks them which restrict keratin build up in the hair follicle.
The anti-inflammatory properties which soothe the inflammation.
It acts as a chemical exfoliating agent which peels away the excess skin cells plugging the hair follicles.
The malic acids and lactic acids balance the pH level of your skin.
How to Use Apple Cider vinegar for Keratosis Pilaris?
Well, there are many ways of using apple cider vinegar for keratosis pilaris. We have listed them below with a step by step process. Try any method as per your preference…
1) Apple Cider Vinegar
There are different processes of using apple cider alone to treat this skin condition. We have included both topical applications and oral consumption remedy. You can try them as per your convenience.
Process 1:
Combine equal amounts of organic apple cider vinegar and water.
Stir well and apply the mixture on affected areas.
Leave it on for few minutes and rinse off with water.
Repeat the application few times a day until you achieve the results.
Note: If the solution is strong, then you can dilute ACV in more amounts of water.
Alternatively, you can soak and washcloth in the mixture, wring out the excess and place it on the affected area. Leave it for few minutes and rinse off.
Process 2: ACV Bath
Apart from keratosis pilaris, this process helps to get relief from stress as well. Through this process, the application can reach out to the areas which are difficult for you to apply the solution.
Fill your bathtub with lukewarm water.
Add 1/2 to 1 cup of apple cider vinegar into it and stir well.
Soak in it for 20 minutes and rinse off with water.
Pat dry and apply any chemical free moisturizer.
Repeat the process daily.
Process 3: ACV Spray
Mix 1 part apple cider vinegar and 2 parts of water.
Pour the mixture into a spray bottle.
Before going to shower, spray the solution and leave it on for 10 – 15 minutes.
Rinse off with water while bathing.
Repeat daily before going to bath.
Process 4: Oral Consumption
Mix 1 – 2 tablespoons of apple cider vinegar and a glass of water.
Drink this solution daily on an empty stomach to boost your immune system.
For extra taste, you can stir in a teaspoon of honey.
Repeat the process daily.
2) Apple Cider Vinegar with Coconut Oil
The lauric acid present in coconut oil helps to break the keratin build up. It also helps in reducing the inflammation.
Process 1:
Combine 1 1/2 cup each of apple cider vinegar and coconut oil.
Add 1 teaspoon of soy lecithin and stir well.
Store this mixture in a glass container.
Apply enough amount of the mixture as an ointment on the affected areas.
Repeat the application daily.
Process 2: with Honey
Combine 1 part each of coconut oil and apple cider vinegar.
Add a few drops of honey and blend the ingredients well.
Apply the mixture on the affected areas.
Leave it to dry completely.
Repeat the process daily.
Process 3: As a Scrub
Combine apple cider vinegar, coconut oil, and sugar.
Mix well and apply it on the affected areas.
Gently scrub for 15 minutes and rinse off with water.
Repeat the exfoliation once in a week.
Alternatively, you can use grape seed oil instead of coconut oil.
3) ACV with Baking Soda
This process exfoliates the tiny bumps, eliminates the keratin build up and improves overall appearance.
Combine apple cider vinegar, baking soda, water, Epsom salt, and yogurt.
Combine the ingredients well to make a paste.
Apply the mixture on affected areas.
Gently massage for few minutes and rinse off with water.
Repeat the process once in a week.
Alternatively, you can use milk or buttermilk instead of yogurt.
Tidbits to Remember
Include vitamin A and fatty acids rich foods your daily diet. As vitamin A deficiency is one of the main reasons behind the flareup of keratosis pilaris.
Never scratch the bumps and rub the bumps roughly.
It is recommended to use lukewarm water instead of hot water for bathing.
Don't spend more time in the water.
Avoid using soaps that contain harmful chemicals. Try to use soap that contains any oil or added fat.
Using a humidifier, add moisture to the air in the home.
Moisturize regularly with coconut oil, olive oil, cocoa butter or shea butter.
Drink plenty of water to flush out toxins.
Use antiseptic creams which contain glycolic acids which reduce keratin buildup in hair follicles.
Have you tried apple cider vinegar to treat keratosis pilaris? Do you have any other methods that work better than the above mentioned? Share your experience and suggestions in the comments section below.