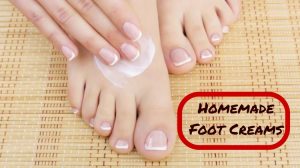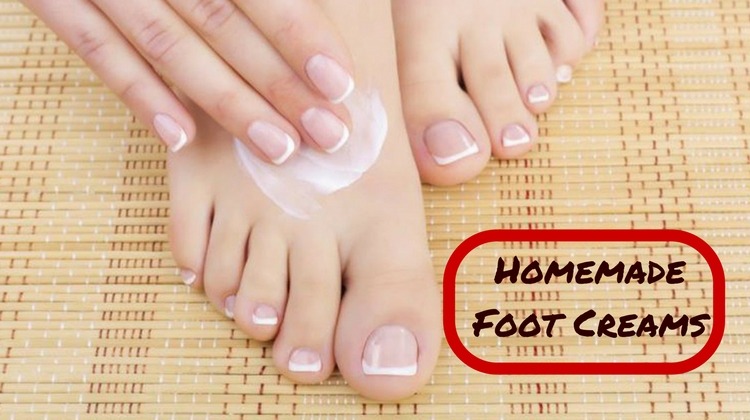 Feet are one of the most neglected parts of the body. Due to the absence of sebaceous glands, the skin under the feet often stays dry which easily triggers cracked heels, calluses, corns and itching. Massaging your feet using a nourishing and moisturizing foot cream promotes the absorption of essential vitamins and minerals into the skin which in turn helps to resolve these problems.
But, when it comes to choosing a foot cream it is best to opt for a homemade product prepared with natural ingredients such as coconut oil, olive  oil, Shea butter, cocoa butter, bees wax, etc. that moisturize, heal and rejuvenate the skin without irritating it.
Best Homemade Foot Cream Recipes:
For your convenience, we have listed various DIY foot care creams which can be prepared at the comfort of the home.
1. Coconut Oil and Shea Butter Foot Cream
The healthy fats present in coconut oil moisturize the skin while capric, caprylic and lauric acids in coconut oil help to treat fungal infections, thanks to their antimicrobial and disinfectant properties. Shea butter contains fatty acids such as oleic, palmitic, stearic and linolenic acids which acts as a powerful healing ingredient for the skin.
Place a medium-sized mason jar in a pan with 1 inch of water.
Add 3 tablespoons of beeswax, 1/4th cup each of coconut oil and Shea butter.
Start heating the pan on medium heat, remove the jar from the pan when all the ingredients are melted. Then let it cool to room temperature.
Put the contents of the mason jar into a blender and blend the mixture.
Now add 10 drops each of oregano essential oil and peppermint essential oil to it and mix it well.
Pour it back in the mason jar and store in the fridge.
Apply it daily to your cleaned and exfoliated feet to resolve the problem of cracked heels.
2. Honey and Milk Foot Cream
The humectant property of honey traps moisture in the skin and seals it, making it ideal for dry and cracked heels. Milk is a rich source of vitamins that repair and reinvigorates the skin. Orange juice is loaded with vitamin C that promotes collagen production which helps the skin to retain its elasticity.
Warm 1 cup of honey in a pan and add 2 tablespoons of warm whole milk to it.
Stir it and add the juice of 1/2 orange into it.
Mix it well and pour it into an air-tight container and let it cool down.
Clean your feet with mild soap and warm water. Using a pumice store remove the dry skin.
Apply this foot cream to your feet, covering all the dry parts.
Leave it on for 45 minutes then wash off with warm water.
Repeat the treatment once in 2 days.
3. Bees Wax and Mustard Oil Foot Cream
The bees wax forms a protective layer on the skin and prevents it from further dryness. Natural oils such as mustard, coconut and almond are rich in vitamins, minerals and healthy fats that nourish, repair and revive the skin.
Take 1 cup of bees wax in a shallow pan and heat it on low flame.
Once it melts completely, add 1/2 cup of mustard oil, 3 teaspoons each of coconut oil and almond oil.
Stir the ingredients with the spoon to mix them thoroughly.
Remove from the flame and let the mixture cool down to a softer and creamier consistency.
Store it in a clean container.
Apply and massage this foot cream to your clean feet every day before going to bed.
4. Cocoa Butter and Coconut Oil Foot Cream
The smooth texture and emollient properties of cocoa butter makes it ultra-hydrating and helps to treat excessive dryness of the skin. The high concentration of antioxidants – polyphenols and flavonoids in cocoa butter reduces inflammation and helps to regenerate the skin cells.
Take a heavy-based stainless steel sauce pan and put it over low heat.
Add 15 grams each of cocoa butter, coconut oil and bees wax into it.
Now, add 2 tablespoons of sweet almond oil and mix it with a spoon to combine all the ingredients thoroughly.
Remove from heat and let the mixture cool down a bit.
Now add 10 drops each of lemon essential oil and ginger essential oil.
Give it a mix and transfer it to an air-tight glass jar.
Apply this cream all over your feet before going to bed and put on a pair of cotton socks.
5. Olive Oil and Tea Tree Oil Foot Cream
The potent anti-fungal and anti-viral properties of tea tree essential oil make it a potent natural cure for ring worm and athlete's foot. It helps to soften corns, calluses and relieve itching. Olive oil is loaded with anti-aging oxidants that protect and nourish the skin while compound squalene helps to keep the skin hydrated and moisturized.
Heat a heavy-based sauce pan over heat and add 1/4th cup each of olive oil and cocoa butter to it.
Next, add 20 grams of bees wax and heat all the ingredients so that they melt completely.
Remove from heat and add 10 drops each of tea tree essential oil and peppermint essential oil into it.
Pour it in an air-tight container and let the mixture cool down completely.
Apply this natural foot cream to your feet twice a day, once after taking a bath and once before going to bed.
6. Peppermint Foot Cream
The calming effect of peppermint oil helps to relieve skin inflammation and provide a nice cooling sensation to the feet. The antiseptic and antimicrobial properties of peppermint oil help to treat foot infections and heal cracked heels.
Heat a medium-sized sauce pan and add 1/4th cup each of Shea butter and coconut oil.
Add 2 tablespoons of olive oil to it and mix with a spoon till all the oils are melted.
Remove from heat and add 15 drops of peppermint essential oil to it.
Blend the mixture for 5 minutes using a hand-blender.
Store in a container and let it cool down completely.
Pamper your feet with this cooling peppermint foot cream.
Have you tried out any of these DIY foot creams in your home? Do share your experience, suggestions and foot care tips in the comments section below.