Having thin hair and bald patches especially for young people can be devastating. As per a study conducted on females over the age of 20 years, has showed a significant association between hair loss complaints and depression. (1)
Generally, when you undergo either natural or commercial treatments, it needs time to work on hair follicles, rejuvenate them and achieve thick hair. You cannot expect the results overnight but once the root cause is fixed, the results stay for a longer period of time. There are several long-term strategies for treating hair loss and prevent breakage. Examples are Aloe Vera, Apple Cider Vinegar, Eggs, Onion Juice, Natural Oils, Biotin Supplements and Coconut Milk.
But meanwhile, in some situations like when should head towards a party, attend an important meeting or going on for a date, you don't have to cover it up with a cap or scarf – Hair Loss Concealers can be your friend in need.
Hair Loss Concealer is the trending way of covering the thin hair and bald patches in just a minute….Isn't that comforting!
Now, your mind would be popping up questions like what are they made off, how to use them, any side effects and others. That is why we have presented all the information in this article so that you can make an informed decision. However, if you want to skip to the best hair loss concealers section by clicking here…
[toc]
What are Hair Concealers?
Hair loss concealers are the quickest ways of improving hair texture and thickness in just a minute without any surgeries, drugs or chemicals that can be very dangerous. There are different types of hair loss concealers – sprays and fibers (sprinkles or powder solids). They also come in different colors, shades and textures. If you can choose a right product for you then being stylish isn't that hard.
Different Types of Concealers
Sprays: Hair concealer sprays are very easy for application and efficient in covering the bald patches. They contain colored dyes which spread on the scalp leaving fuller appearance. The disadvantages of these products are – they look artificial if improperly applied or applied in a hurry. Their resistance ability to heat, wind, water and rain are quite questionable.
Hair Fibers or Sprinklers: These products contain micro-hair building fibers. When applied, these fibers get attached to the hair like tiny magnets to the existing hair. They contain static magnetic electricity which binds them to the hair strongly.
These products are available in powder form which should be applied generously to get a fuller and thicker appearance. Their resistance ability to heat, regular wear, rain drizzles and wind is much better than sprays. They can be easily removed by washing the hair with shampoo.
Recommended Hair Concealers
[table id=25 /]
Advantages of Hair Loss Concealers
When it comes to thin hair and bald patches, there are several ways to cover them up. Below, let me explain some of the benefits of hair loss concealers over other commercial treatments like hair transplants.
They help to cover up hair thinned areas and bald patches within a short period of time without prohibiting the hair follicles form growing.
It is an affordable alternative when compared to hair transplants which usually are very time taking, tiresome and expensive methods.
Concealers come in different styles and colors to choose from that include gray, dark brown, medium blonde, black, medium black, white and many other shades.
They naturally blend into existing hair preventing unnatural looks and unnecessary attention of others at parties or any other get-togethers.
They can be easily removed by just washing your hair with shampoo without any hassle.
How to Choose the Right Hair Concealer?
For effective results and to avoid embarrassment, it is very important to choose the right concealer. We have provided important things you have to consider while purchasing a hair concealer.
1. It should blend into your existing hair
It looks really embarrassing when the hair concealers and your natural hair don't blend in. It unnecessarily creates an attention of others leading to humiliation. So, it is better to look out for products that contain fibers that easily blend in resembling like natural hair.
2. Easy Application
No one likes to have fussy products that take time or have complicated procedure for application. Applying hair concealers should be easy and quick. The manufacturer should provide a detailed step-by-step description that clearly presents on how to apply the hair concealer.
3. Color Should Match
Choosing the right color matching your existing ones will provide a natural finish. Hair concealers are available in a variety of color variants but the most popular ones are blonde, light blonde, grey, black and black brown.
Which Materials Should a Hair Loss Concealer Contain?
The ingredients present in any product can have impact on your health which includes hair concealers as well. So, it is very important to know about the materials that are used in the product. We have provided some important things to check before buy a hair loss concealer.
1. Natural Human Hair
This is most appropriate and safe material to use on your head. The real hair fibers present in hair concealer can do the trick of covering your baldness and easily blend into your existing hair. No one else can understand the difference between your real hair and concealer as they are natural.
2. Keratin Fibers
If you want to cover the bald patches and areas with very thin hair then keratin fibers is the second best option. Because our hair is also made up of keratin, it can easily blend into the existing hair without leaving any artificial appearance.
3. Wool, Mess or any other animal product
This should be you least option while looking out for an effective hair concealer. As per our recommendation, it is better to avoid hair concealer products with this material. Because the hair structure of animals is different from ours. The application of these materials has potential risks of allergies and irritation.
How to Use a Hair Concealer?
There are different ways of using a hair loss concealer depending on the product you have chosen and materials it contain.
1. Spray the Product
While using this product, you have to shake the bottle well and spray few times on the bald patches. You don't have to mix up the ingredients and heat any solution. It is just spraying a perfume of deodorant.
2. Patting
While using this product, you have to just pat it on the areas you want to get covered. It is important to make sure that the hair is dry before applying the product if you want to evenly cover the areas. Also make sure your hands are dry and wash your products after application.
3. Sprinkling
You have to sprinkle the contents of the product onto the areas you want to be covered. Due to electrostatic property the content gets attached to the present thin hair and provides full coverage.
Top 10 Hair Concealers: 2017 Review
We understand, you haven't go time to check out all products. That is why, our research team has tested various hair concealer products available in the market. And finally, picked up the best 10 after judging them based on the above mentioned features. You can have a look at them below.


Though it is priced at premium, but if you are looking a standard product, this is it.
This product is one of the well-known hair concealers in the market. The fibers present in this product are made up of natural keratin proteins which always have a natural static change.
The fibers are dispersed into the hair using a shaker bottle. This perfectly blend into the thin hair follicles make them look thicker and healthy. They can be easily removed with water and shampoo. The Toppik Company claims it to be water, perspiration and wind resistant.
It comes in 9 different colors – medium brown, black, white, grey, light blonde, auburn, dark brown, light brown and medium blonde). It has been rated highest reviewed hair fiber brand on Amazon.com with 2,476 reviews.
Pros
Made of natural, colored keratin fibers
Magnetized with static energy
Wind, rain and sweat resistant
For all hair types and textures
Both for men and women
The application stays intact for a longer period of time.
Cons
Expensive
Doesn't work properly with severe hair loss
Few words from Amazon Reviewers:
By Katie S. – "I can't live without these hair building fibers. I have severely thinning hair on the top and sides of my head (hypothyroid) but the Toppik fibers cover it so well that even people who have known me with thick hair tell me they can't tell that I've lost so much. It's been a massive boost to my self-confidence and I re-order as soon as I get low. The .97 oz usually lasts me a little over a month. I haven't noticed any residue left on my pillows or messiness when I get sweaty, like others have. I do spin class twice a week and sweat like crazy, but mine has always stayed put.â€
By Lisa Pecoraro – "THis is kinda a miracle!! It does just what it says n I've had no problem with any rushing or problems at all Just fuller looking hair that lasts for days. Make sure to get the spray hold to make it last even longerâ€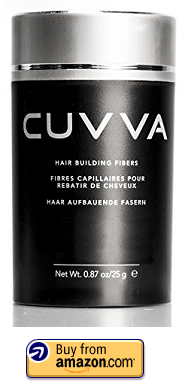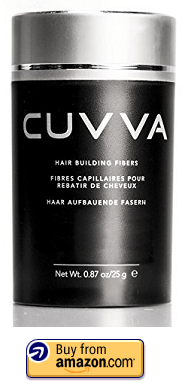 The keratin fibers of this product are made from organic protein similar to human hair. These fibers are charged with electrostatic energy which helps to bind to the thin hair immediately. As per the manufacturer, these fibers work best on people with 1 – 1 ½ inch long hair.
As per the user reviews, this product is very easy to apply. For best results, you have to pat down the hair fibers after applying them to the hair which helps them to settle down. Using a hair spray after the application helps to hold them for a longer time.
It comes in 4 different colors – light brown, medium brown, dark brown and black. A bottle of CUVVA keratin fibers may last between 60 – 75 days which usually depends on usage. The brand backs up a 30 day, no hassle money back guarantee.
Pros
Sweat and wind resistant
Easy to wash away using shampoo
Undetectable from as close as a foot away
30-day money guarantee
Cons
Contains silica
Comes only in 4 colors
Doesn't work for gray hair as they don't have that color
Few words from Amazon Reviewers:
By Jason santillan: "I am not one to write a review but i thought this would help other women as i always read the reviews on all the hair products i tried to regain my confidence.I love this product. I have tried everything and this is a life savor. I have gained 100 % of my confidence back from this product and am truly blessed to have found it.â€
By Wendy U: "Bought this for a friend. I applied it to her hair for the first time and was amazed how well this product covered! Didn't need to use much to cover either. Now every time she talks to me she thanks me for this gift and tells me how much it changed her life.â€


XFusion keratin fibers blend undetectably with existing hair strands and instantly create the appearance of naturally thick and healthy hair. These fibers are made up of keratin protein that is similar to the human hair. This product is great for covering extension tracks and touching up the roots between hair color appointments.
The company claims that this product can enhance even sparest areas of the head. It is available in 8 most common colors – medium brown, dark brown, medium blonde, auburn, black, gray and others.
Pros
Comes in 9 different color shades
Wind, rain and perspiration resistant
Works for all hair types and textures
Can be easily washed away with shampoo
Cons
A little pricey
Doesn't work for bald areas
Few words from Amazon Reviewers:
By D.Reed –"I love it! Instantly covers where you can see my scalp. Remember, you lift small sections of hair, and spritz it onto your hair, not your scalp.â€
By Diane.B – "Great product! Bought it for my mom to use on her thinning hair. Easy to shake on and fill in those thinning areas. But, don't shake too hard, just lightly or you waste the product.â€
By Fonzie – "This is the third hair fiber product I've tried and so far it's the best. The fibers are keratin, which is what actual hair fibers are made from which makes this look a little more natural than other brands that use cotton fibers. Other products have also made my scalp itch a bit, but this prodcut does not. Lastly, the price is reasonable when compared to others. Remember to add a "fiber locking" spray. I use simple hair spray and it works just fine.â€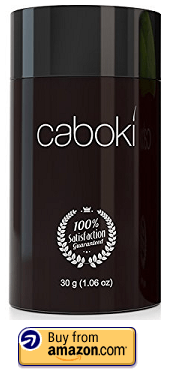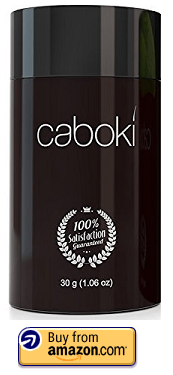 The keratin fibers of this product are made from the plants (Moroccan Gossypium Herbaceum and mineral based colorants) which are safe for even the most sensitive scalp. Once you apply the caboki hair loss concealer, your hair will instantly look fuller, thicker and eliminate those embarrassing thinning hair areas. The fibers are unnoticeable even from a close up view and under the bright sun. They bond with the hair more securely without clumping on the scalp.
It works best for both men and women. Once you pat the concealer on the head, the fibers present in it magically blend to the present hair and fill up the bald patches. Usually, it stays in place for 8 hours. If you want to keep the styled hair for more than 10 hours then this may not be your product.
It comes in different colors from black, auburn, brown, blonde, gray and in-between shades. As per their official site, the manufacturer claims that it will just cost 50 cents for each application.
Pros
Wind, rain and sweat resistant
Lasts all day long and night
Will not smear or stain the clothing
Works for both men and women
Doesn't contain animal ingredients, synthetic dyes, fillers and preservatives
Cons
Doesn't work on bald areas
You should never comb after applying the product
Contains mineral dust
Few words from Amazon Reviewers:
By Collector3000 – "Have a small bald spot on my head where my hair is thinning and it shows when the surrounding hair grows back. Very noticeable. Constantly keep cutting my hair low so people won't notice. Tried different hair growth products to restore it but nothing worked. Then I heard of Caboki and saw the video demonstrations. I tried it out for the first time today and it completely covered the bald spot. Easy to apply. Great product.â€
By Player – " I have every recommend this product I have used it for quite a while since my hair is been thinning out it works very well I apply it very gently and lightly just sprinkle a little bit here and there not overdo it I used a blow-dryer on low to spread it on my scalp so that doesn't look like a big chunk on my head and use a little bit of Hairspray and I'm good for all day I give my thanks to the inventor keep up the good work.â€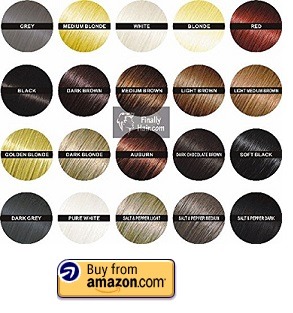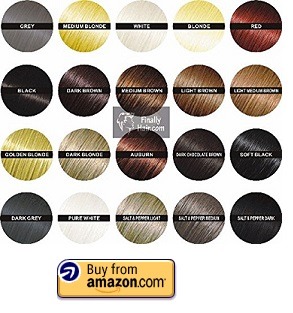 This product contains the best and real keratin fibers. It doesn't contain any cotton or wool fillers. Unlike most of the hair loss concealers, it is designed to be anti-clump which means it cannot moisture and get fat. For effective results, this product has to be used only on dry hair. Pat it well for a minute to get full and even coverage.
Make sure to wash your hair after the application. For a long shelf life, close the lid after the usage. Unfortunately, this produce is not rain resistant. Manufacturer also states that it is clean-pillow formula which states that it hardly comes or stain the pillow if you slept with application.
It comes in 20 different color shades which include grey, black, light medium brown, salt & pepper light, dark grey, black, pure white, dark chocolate, auburn, blonde and others.
Pros
Anti-clump and clean pillow formula.
Application bottle is easy to handle and use.
Highest quality natural keratin fibers
Cons
Hair cannot be combed or styled after the application
Some people didn't like the smell
Few words from Amazon Reviewers:
Mary Milana: "For all you ladies out there with hair loss… This product changed my life. I am blond and have a large bald spot on the front of my scalp. I use light brown it gives depth to my existing hair and covers that area. I would have to wear a wig without this. You must try it. Sometimes when I see others with this problem I want to stop them and tell them to use this.â€
S Scheffen: "I was buying the more expensive fibers at first. I bought finally hair fibers when I was low on funds. I like it better then the other more expensive brands I have tried. Honestly I can not leave the house without this product. Customer for life. Always arrives quicker then anticipated.â€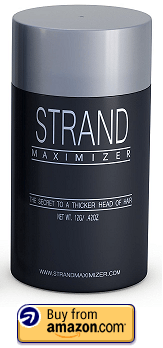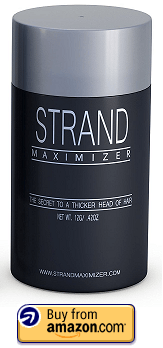 If you suffering from very thin hair and want to cover up then this product is the best among them. The keratin fibers present in this product are made up of structural proteins which are charged with electrostatic electricity. It perfectly blends into the natural hair and binds strongly to the hair shaft. It works perfectly both for men and women.
As per manufacturer, this process is perfect for people who don't want to take propecia or rogaine medications for hair loss or balding. As the product contains powder, it keeps the bouncy, light and adds up volume.
Pros
Works instantly for both men and women
Blends perfectly with original hair and leave undetectable finish
Stays intact in all day even in environmental conditions like rain, sweat and wind.
Can be easily removed by washing with shampoo
Effective for all colors and textures
Cons
Should follow the process correctly, or else you not achieve the results
Doesn't work on bald head
Few words from Amazon Reviewers:
By Karen Lynne Taylor: "Had to cut my hair because of the balding. Was very self-conscious about it initially. This is the second product I use of this kind. I found the texture and the color to be perfect for my hair type. Most people don't even realize I have bald spots product. I'm very satisfied with the. I will reuse this product. The size of the product in the amount in the container is enough to use for over a month for me. And that's using it daily. It is easy to apply.â€
By Sara Howser – "This stuff is amazing! I was hesitant to try it because it was $10 more than the other fill in powder I've been using but omg it was worth every penny! Seriously give this a try! It looks so much more natural than the other products I've used in the past. I'd say it lasts for about 8-10 hours before you might need to touch up, but it looks so good! Hope they never stop selling this one!â€
Viviscal Hair Filler Fibers will provide an instant coverage for thin hair and make it look thicker in just few seconds. It comes with an easy-to-use precision comb applicator disperses the micro fibers which blend into the hair strands building density and creating a thick, full-looking head for hair.
You can observe the difference almost instantly. If you want longer lasting results, then simply follow it by a hair spray. Though you get only 5 basic hair colors, they can be mixed to customize as per your hair color.
This is one of the few brands that use wheat, soy and corn to mimic natural hair. As the materials are natural, they don't have cause any irritation or other side effects. The manufacturer even provides 90 day money back guarantee.
Pros
Easy to apply
Lasts in wind and rain
Washes out easily with shampoo
Suitable for all hair types and textures
Cons
Few people didn't find their hair color shades
Some people experiencing clumping up off the fibers
Doesn't cover the bald areas
Few words from Amazon Reviewers:
By Joey York – "I am soooooooooooooo happy. As a woman, my hair was my crown of glory, over the past several years it has gotten thinner and thinner especially around the crown. I've been so self conscious and depressed over the issue. This product gave me my hair back!!! Or at least the look of it by covering the scalp enough to make it look full again. I can not tell you how happy and thankful I am. woooooooohooooooooooo!!!!â€
By Ann Marie – "I'm dismayed to see my part widening. This helps without looking like fake stuff on my head. Another good thing – it also helps camouflage grey roots when I've let it go too long. Also it doesn't itch or come off on pillowcases.â€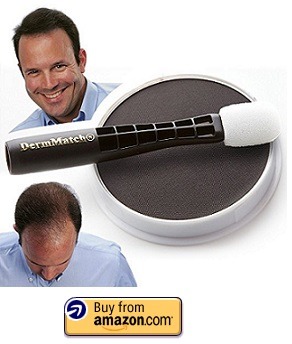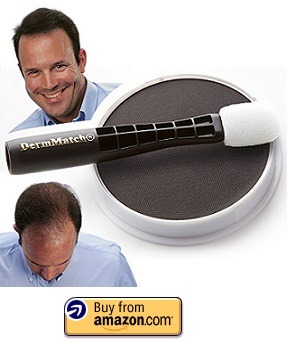 This product works entirely different from the hair fibers and sprays. It is one of the best hair concealers in the market as it provides natural looking coverage with its unique topical shading technique. Topical shading concealer refers to the compound colored concealer which is used to shade the thin layer to make it look thicker and fuller.
Dermmatch is the only product where you can swim with it. If used correctly as mentioned by the manufacturer then you can hardly detect the difference even under the lighting. One disk of dermmatch lasts for 3 times longer than other types of hair loss concealers.
Dermmatch should be applied by wetting the applicatory and gently applying the concealer on the affected areas in circular motions. You should only use distilled water for this process as regular water may contain elements that can reduce the quality of the product. It is better to leave the application for 5 – 10 minutes before styling your project.
Pros
Provides results almost instantly
Better than fibers, sprays and other hair concealers
Water, wind and perspiration resistant
You can brush your hair any time after the application
Cons
Doesn't work on bald areas
Didn't meet expectations for some people
Few words from Amazon Reviewers:
By AnnLUC – "I've been using this product for a few years now and am never disappointed! It really does what it saysâ€
By David S. – "This product properly used is worth its weight in Gold.use a large horse hair brush n put 3 drops of water on container n dab brush up n down on container n apply by rolling n dabbing brush n you will have shaved hair look in a couple minutes!â€
By Shirley Pelletier – "I am very happy with this product & the results from it.I have very dark brown hair & this really helps cover my thinning hair which is notable especially on top.Love the help from DermMatch.Thank you Amazon for it too !â€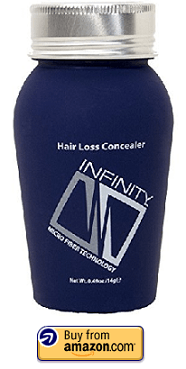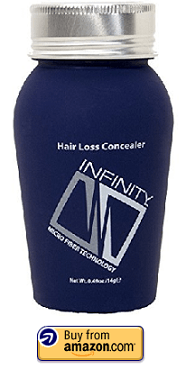 This product provides instant solution to the thinning hair for both men and women for all ages. The colored fibers blend undetectably into the existing hair which provides thicker and fuller appearance instantly.
It covers the entire scalp in just 30 seconds. The micro fibers use static electricity and become electrostatically charges when the bottle is shaken. This strongly enables them to hold on to the hair all day long through wind, light and exercise. The colored fibers don't run, stain or leave any marks behind.
Pros
Wind, rain and perspiration resistant
Uses latest hair fiber technology
For all types and hair textures
Comes in 10 colors
Cons
Some people didn't like the smell
Doesn't cover the areas that are completely bald
Few words from Amazon Reviewers:
By R. Miller – "I have front hairline loss and thinning from medications that are vital to my life. I've tried several top brands of hair fibers and powders. This product is noticeably superior, finer particles that stay in place, and the fibers seem to add body, too, though I don't use more than needed to conceal scalp. I spritz hair spray (volume type) after sprinkling it in place. Lasts til next shampoo!â€
By Kristy H – "If you have thinning hair, bald spots, this product is magic. I will probably use this for the rest of my life until I just shave my thinning hair off or decide on a stylish wig. I applaud the makers of this product!!!â€
By Eve Patrick – "This is a fantastic product!!! It really works. My husband sprinkles it on his balding spot on back of head. He pats it a little bit and that's all it takes. I would highly recommend this for back balding or crown of head…..not for front receding hairline.â€


Hair Illusion contains 100% natural human hair without any added synthetic dyes. Its electro statically bonds to the hair and scalp providing an illusion of having a full head of hair. It takes only few minutes to completely change the look of your hair.
The company claims that its product works on completely bald areas which means it doesn't need any hair any cling unto. The company hasn't referred to whether the application can stay in place even after exposing to wind, sweat or rain.
For application all you have to do is shake the bottle and sprinkle on the hair. It comes in 9 different colors – auburn, brown, dark brown, jet black, light blonde, light brown, light blonder and others. The manufacturer even provides 100% money back guarantee with no question asked.
Pros
Made from natural human hair
Wont block the hair follicles
Can be used along with other hair growth treatments
Suitable for all hair types
Cons
Some people expressed that it doesn't stay as promised
The new applicator is not good
Few words from Amazon Reviewers:
By AjStylz – "I lost my hair at the age of 16 and have tried everything to regrow it with no success. All I wanted was the appearance of a full head of hair and hair illusions has given me what I've be looking for for years! Thank you for developing this product….restoring my confidence and rebuilding my self esteem!â€
By Big Al – "This is one amazing product! My daughter, who is a professional hair stylist could not tell what was "different" about my hair…my wife is amazed with the results…I could not be happier. This actually works, and really does look natural. It is a process however, but after a few applications, it can be done in a few minutes. The only downside is the constant cleanup on your pillow…and the need for lots of hold spray. But still the best results you can ask for!â€
Side Effects of Hair Concealers
Here are the side effects and disadvantages of using hair concealers. Make sure to go through them to be on safe side.
If the material present in hair concealer is allergic to your scalp then it may cause irritation. So, it is better to patch test on a small area.
Many dermatologists are afraid of phsycological effects of a hair concealer when used long term.
If the fibers are inhaled for a prolonged time, then it can cause irritation in the lungs.
Although covering up is easy, it takes time and attention to carefully execute the procedure.
Most of the users feel self-conscious about being found out or getting caught outside in the bad weather.
Conclusion
Remember that hair concealers are only a temporary solution to cover your thin and balding areas. They don't stimulate the growth of new hair. If it is not restoring the true confidence in you then seems counter-productive of its use in our opinion. But finally, it is the individual's decision to use it or not.
Do you know any other product that works better than the above mentioned? Click Here to learn more about natural home remedies to treat hair loss. Share your experiences, suggestions, and queries in the comment section below.